Recommended Technologies to Reduce Methane Emissions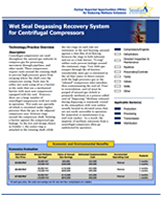 Review our Lessons Learned Studies and Partner Reported Opportunities (PRO) Fact Sheets to see how the U.S. EPA's voluntary oil and gas methane program partners have implemented technologies and practices to cut methane emissions, reduce strategic and operational risk, and demonstrate their commitment to the environment.
Translations: Select Lessons Learned Studies and PRO Fact Sheets are also available upon request in Arabic, Chinese, Russian, and Spanish translations. Contact us to request a translated document.
Disclaimer of Endorsement: Reference herein to any specific commercial products, process, or service by trade name, trademark, manufacturer, or otherwise, does not necessarily constitute or imply its endorsement, recommendation, or favoring by the United States Government.
---