Accomplishments of the Landfill Methane Outreach Program
On this page:
Landfill gas (LFG) energy projects prevent direct methane emissions from landfills and reduce indirect CO2 emissions by displacing energy generated from the burning of fossil fuels with LFG, an alternative energy source. Through the Landfill Methane Outreach Program (LMOP), EPA provides landfill owners and operators a suite of tools and technical resources to help them overcome the obstacles to developing LFG energy projects. LMOP provides technical assistance to both smaller landfills not covered by EPA regulations and larger, regulated operations that are combusting their gas but not yet using it as a clean energy source.
Achievements in 2014
Reduced methane emissions from hundreds of U.S. landfills and avoided CO2 emissions totaling approximately 39.5 MMTCO2e in 2014. Over the past 20 years, LMOP has assisted 632 LFG energy projects and the nationwide total reached 652 currently operational projects in 2014. The 632 LMOP-assisted projects have collectively reduced and avoided more than 345 MMTCO2e since the program began.
Welcomed 30 new LMOP Partners and Endorsers, bringing the total to 1,100.
Published two articles; hosted a webinar on using LFG as vehicle fuel; and participated in national, state, and regional conferences on LFG energy.
LMOP Annual Emission Reductions (2000-2014)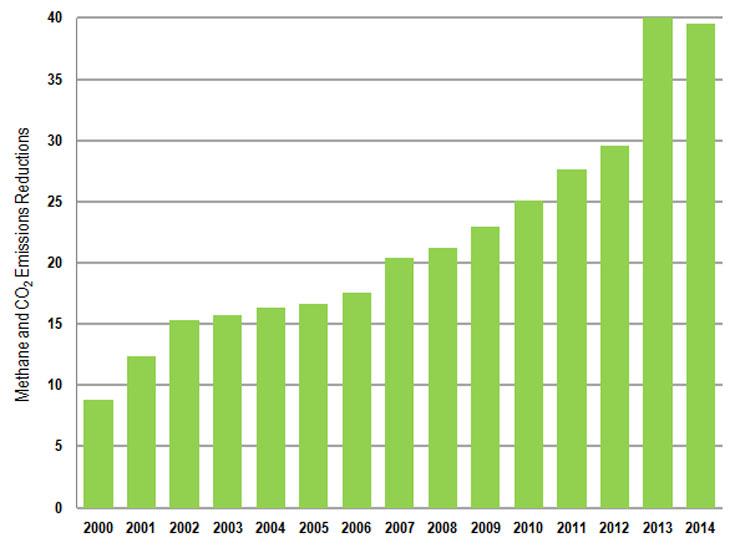 Office of Atmospheric Programs: Climate Protection Partnerships 2014 Annual Report (PDF) (49 pp, 7.7 MB), page 23
---
Greenhouse Gas Equivalencies
Understanding greenhouse gas (GHG) emission reductions is challenging, so it helps to think of the environmental benefits in terms that are more relatable. Using EPA's Greenhouse Gas Equivalencies Calculator, equivalencies are presented below for the total estimated emission reductions from LMOP-assisted projects in 2014 (39.5 MMTCO2e).
CO2 emissions from one of the following:

More than 4.4 billion gallons of gasoline consumed

More than 42.1 billion pounds of coal burned

About 523,000 tanker trucks' worth of gasoline

Nearly 4.2 million homes' energy use for one year

More than 5.8 million homes' electricity use for one year
More than 210,000 railcars' worth of coal burned
More than 91.4 million barrels of oil consumed
Annual GHG emissions from one of the following:

More than 12.5 million tons of waste recycled instead of landfilled

About 1.8 million garbage trucks of waste recycled instead of landfilled

Carbon sequestered by one of the following:

More than 1.0 billion tree seedlings grown for 10 years

About 37.4 million acres of U.S. forests in one year

Nearly 315,000 acres of U.S. forests preserved from conversion to cropland in one year