State Lean Activity
Interest in Lean and Six Sigma among government agencies continues to grow. Many State agencies have experienced significant efficiency gains through applying Lean and Six Sigma methods. Multiple States have completed Lean events and several are increasing their investment in Lean (see map). In addition, EPA has collaborated on several events with states.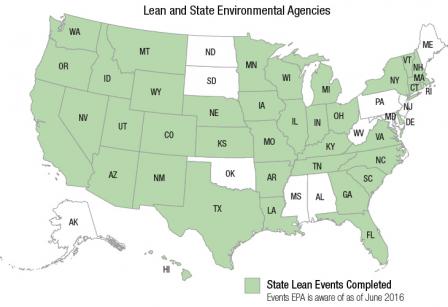 On this page:
---
State Lean Case Studies
---
​Joint EPA/State Lean Activities
---
State Websites 
The following links exit the site Exit
---
State Lean Initiatives
The ECOS "Inventory of State Lean Activities" is a state-by-state listing of Lean events and projects as well as State contact information for nearly every state.