Water in Louisiana
The Coastal Wetlands Planning, Protection & Restoration Act (CWPPRA) Program: EPA-Sponsored Restoration Projects
The EPA Region 6 Coastal Wetlands Planning, Protection and Restoration Act (CWPPRA) program team works with federal, state, and local partners to develop, design, and build Louisiana coastal restoration projects.  Since 1990, EPA has sponsored the engineering, design, and construction of nine projects benefiting some 13,000 acres of restored or protected wetlands, marshes, headlands, and barrier islands.
---
Currently Active EPA-Sponsored Projects
EPA Restoration of Louisiana Barrier Islands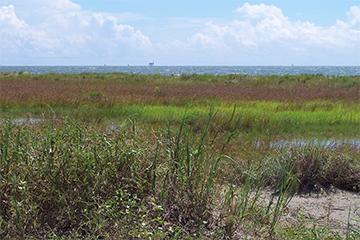 Photo of New Cut Barrier Island Restoration Project (TE-37) approximately eight years after construction.
Since 1990, EPA has constructed six barrier island restoration projects in the Isles Dernieres chain. Each project demonstrated an innovative restoration feature or concept. 
Barrier islands serve an important function by acting as a first line of defense for coastal communities against storm surge, maintaining the protective barrier between the Gulf of Mexico and the lower Terrebonne Basin estuary.
Bayou Dupont Sediment Delivery - Marsh Creation #3 and Terracing (BA-164)
Heavy equipment known as "marsh buggies" moves sediment slurry as it is pumped into the Bayou Dupont marsh creation area. (Photo credit: Dr. Patricia Taylor, EPA Engineer).
Construction is currently underway to add an additional 137 acres of marsh adjacent to the Bayou Dupont Sediment Delivery System (BA-39) project, which was completed in 2010 and created 568 acres of marsh. BA-39 was the first CWPPRA project to use renewable sediment from the Mississippi River for marsh creation.
http://www.lacoast.gov/new/Projects/Info.aspx?num=BA-164 
http://www.lacoast.gov/new/Projects/Info.aspx?num=BA-39
Caminada Headland Back Barrier Marsh Creation (BA-171)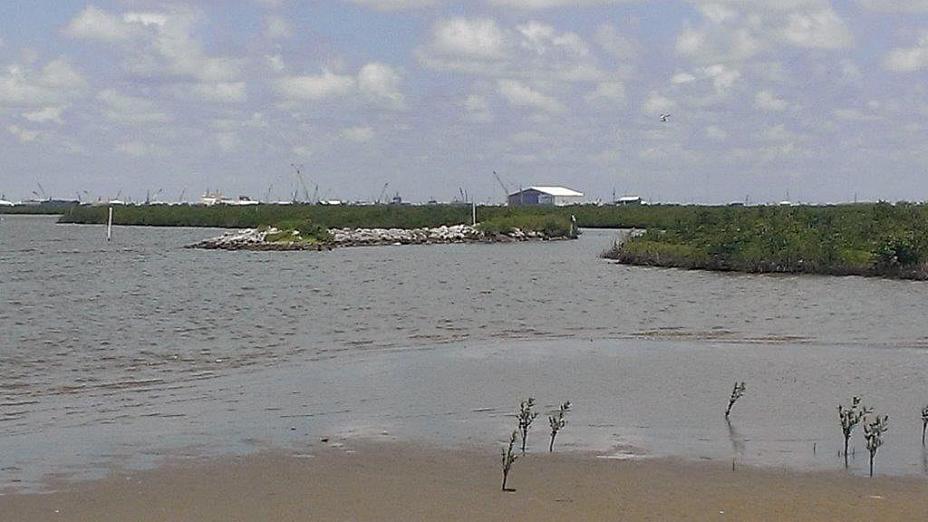 The BA-171 project will create and enhance marsh to fill in open water as seen here behind the Caminada Headland Beach. The project will help protect the infrastructure of Port Fourchon in the distance. (Photo credit: Aaron Hoff, former ORISE intern for EPA).
Currently in the engineering and design phase, the BA-171 project will restore 430 acres of back barrier marsh behind the beach using sediment dredged from the Gulf of Mexico. BA-171 will work in synergy with the state of Louisiana's Caminada Headland Beach and Dune Restoration project (BA-45) currently in construction. 
http://www.lacoast.gov/new/Projects/Info.aspx?num=BA-171
Hydrologic Restoration and Vegetative Planting in the des Allemands Swamp (BA-34-2)
The BA 34-2 area is currently suffering the effects of long-term impoundment. Without a dry-out period, the trees are not able to regenerate. The project is expected to reverse impoundment effects. (Picture credit: Barbara Aldridge, EPA Project Manager).

Construction is expected to start in early 2017. This is the first CWPPRA project to restore a cypress-tupelo swamp and will benefit a 2,395-acre area in St. James Parish bordered by Bayou Chevreuil.
http://www.lacoast.gov/new/Projects/Info.aspx?num=BA-34-2
---
More About CWPPRA
EPA Region 6 is one of five federal agencies working with the State of Louisiana to restore coastal Louisiana wetlands. Louisiana's coastal zone contains approximately 30 percent of coastal marshes and 45 percent of all intertidal coastal marshes in the lower 48 States, but it is suffering 80 percent of the entire Nation's annual coastal wetland loss. Since the 1930s, coastal Louisiana has lost more than 1,883 square miles, an area more than 25 times larger than Washington, D.C. Louisiana's wetlands provide a variety of benefits that serve the Nation across an array of economic sectors. Because of this, the coastal wetland loss crisis in Louisiana is considered a matter of national concern.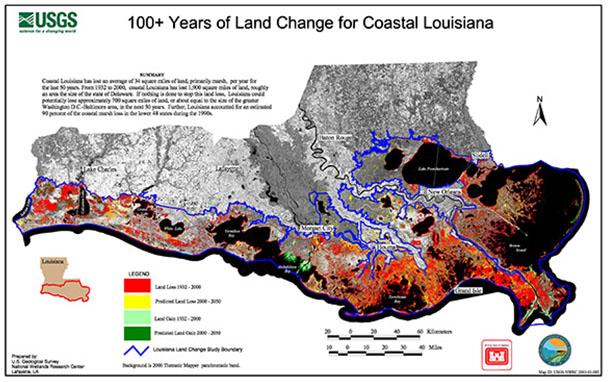 Working with our State, Federal and local partners, EPA Region 6 implements restoration projects to promote coastal protection at a landscape scale and reduce the vulnerability of coastal habitats to the effects of subsidence, erosion, sea level rise, and storm surge. CWPPRA project managers, engineers, and scientists use various techniques to protect, enhance, or restore wetlands. EPA Region 6 has sponsored and completed various types of projects including "natural" reintroduction of river water, barrier island/shoreline restoration, and application of innovative technologies such as pipeline delivery of new sediment.
Additional information on CWPPRA is located at: http://www.lacoast.gov