Indoor airPLUS has updated many of its program documents to maintain alignment with ENERGY STAR Certified Homes Version 3/3.1 (Rev. 08) program requirements and to update several aspects of the Indoor airPLUS Construction Specifications.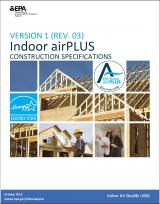 This document contains the revised Indoor airPLUS Version 1 (Rev. 03) Construction Specifications and verification checklist, as well as instructions for building and verifying Indoor airPLUS homes. Homes permitted starting 01/01/2016 are required to use Revision 3 of the Construction Specifications for qualification. For homes permitted before 01/01/2016, partners can use either Revision 2 or Revision 3 if desired. The Rater may define "permit date" as either the date that the permit was issued or the date of the contract on the home.
Highlights and Notable Changes (PDF)(1 pp, 399 K)
This document provides a summary of changes in Version 1, (Rev. 03) of the Indoor airPLUS Construction Specifications. For more information about the revisions, please see the Current Policy Record.
---
This resource was developed to help builders, designers, and Home Energy Raters find products that are compliant with the Indoor airPLUS Construction Specification requirements for low-emission materials. 
To request that other compliant certifications or programs be added to this resource or for additional questions about these or other Indoor airPLUS Construction Specifications, please contact Indoor_airPLUS@epa.gov. 
---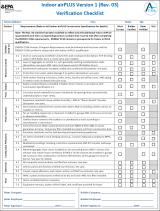 This stand-alone checklist provides the requirements for building an Indoor airPLUS qualified home.
A Version 1, (Rev. 03) Adobe Acrobat Fillable Verification Checklist is also available for download.
---
This policy record was posted on October 31, 2016, and contains all official program updates on policy issues identified, under review, and/or resolved since the last revision to the Indoor airPLUS Construction Specifications (Rev. 03, October 2015). These updates include changes, clarifications, and refinements that will be included into the next revision of the Construction Specification and Verification Checklist. 
You will need Adobe Reader to view some of the files on this page. See EPA's About PDF page to learn more.