Federated Metals Corporation Site
On this page
---
Dec. 2016 Update
EPA began soil sampling at city-owned properties and right-of-ways in Hammond and Whiting, Indiana, the week of Nov. 28, to determine whether heavy metals from the former Federated Metals Corporation (FMC) facility may have contaminated surrounding residential areas. Weather permitting, EPA will collect soil samples through December. The results will determine whether additional sampling in residential yards is necessary next spring.  
Site Description
The Federated Metals Corporation site is a former metal smelting and refining facility, encompassing approximately 19 acres, in Hammond, Indiana. The site consists of two land parcels, a 9-acre former smelter and a 10-acre landfill near the shore of Lake George.
Site Background
From 1937 through 1983, Federal Metals Corporation (FMC) operated in the border of Hammond and Whiting, Indiana as a smelting, refining, recovery and recycling facility for a variety of non-ferrous metals such as copper, lead, zinc. In 1985, FMC's parent corporation, ASARCO, sold the smelter site to Whiting Metals.  From 2001 to 2006, the smelter property was subject to a $3.35 million federal RCRA corrective action/Indiana State RCRA closure project that is nearly complete. This work included demolition of an on-site baghouse; consolidation of debris, on-site hazardous wastes and slag dredged from Lake George into the landfill; and construction of a phyto-cap, a remedy technology which consists of growing selected plants and trees on top of a landfill. 
In December 2005, ASARCO declared bankruptcy and abandoned the site before the RCRA corrective action was completed. A federal bankruptcy court ultimately allocated $1.2 million to a federal Trustee to complete the corrective action. To date the Trustee has spent approximately $500,000 to install groundwater monitoring wells, conduct groundwater monitoring, and develop plans for replanting and revegetating the landfill cover. The remaining tasks are revegetation of the landfill cover and additional groundwater monitoring and sampling to assure that the phyto-cap is performing successfully.
Documents
Site Map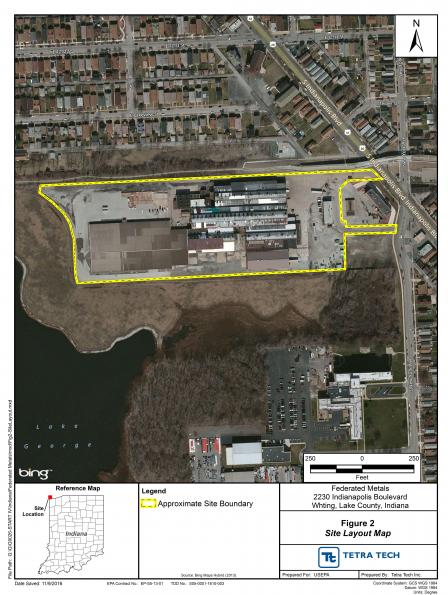 Federated Metals Site Layout Map (click map to enlarge).