Where is the Managing Hazardous Waste at Academic Laboratories Rule in Effect?
Like in most federal environmental legislation, the EPA encourages states to develop and run their own hazardous waste programs as an alternative to direct EPA management. The Academic Laboratories final rule went into effect immediately in states, territories, and tribes that are not RCRA-authorized, including Iowa and Alaska. State adoption of the 2008 Academic Laboratories final rule is strongly encouraged. However, it is optional because the rule is neither more nor less stringent than the pre-existing regulations under RCRA.
To help academic laboratories follow the regulations in their state, both a map and an alphabetical list of states and U.S. territories are given below. The map shows which states :
have become authorized for the Academic Laboratories Rule,
have adopted the rule,
have not been authorized or adopted the rule, and
in which states the EPA administers the rule.
The chart below the map lists the state or U.S. territory, a link to the state's regulations if applicable, and whether the state has adopted or been authorized for the rule.
You will need Adobe Reader to view some of the files on this page. See EPA's About PDF page to learn more.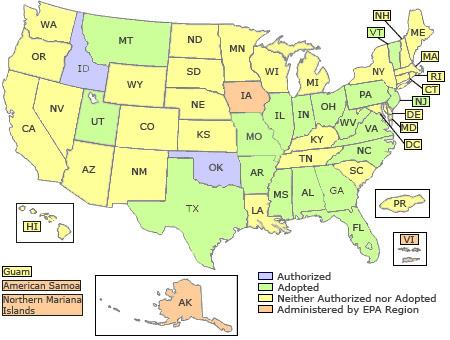 Notes About Table:
Adoptions and authorization status listed above are as of April 15, 2013. 
The above links may not be the most current.
You may need to search within the state website.
Links to all state programs can be found on the State Regulatory Programs page.