What EPA is Doing to Reduce Heat Islands
EPA's Heat Island Reduction Program (HIRP) focuses on translating urban heat island research results into outreach materials, tools, and guidance to provide communities with information needed to develop urban heat island projects, programs, and policies. Key HIRP resources and activities are listed below.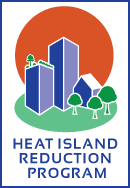 Reducing Urban Heat Islands: Compendium of Strategies
Describes mitigation measures that communities can take to address the negative impacts of urban heat islands.
 
Urban Heat Island Pilot Project (UHIPP) 
Inter-agency pilot project from 1998-2002 that assisted five cities in their efforts to identify urban heat island impacts in their communities and evaluate site-specific benefits of advancing heat island reduction strategies.
 
Webcasts 
Periodic webcasts on urban heat island-related topics, dating from 2005. Summaries, presentations, and other materials from the calls and webcasts are archived on this site, sortable by topic or date.