Water Conservation at EPA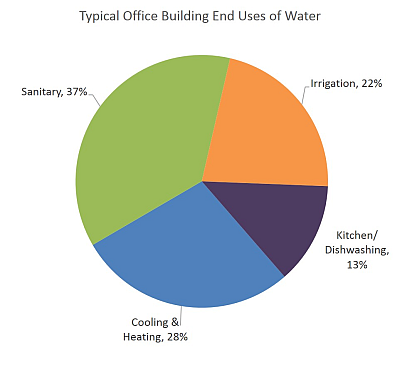 The U.S. population has doubled over the past 50 years, while our thirst for water has tripled. With at least 40 states anticipating water shortages by 2024, the need to conserve water is critical. EPA strives to integrate water management best practices at all of its facilities.
EPA occupies two main types of facilities: offices and laboratories. Plumbing, heating/cooling and irrigation needs comprise a large percentage of typical office water use. The Agency has minimized those uses by installing high-efficiency plumbing fixtures and eliminating irrigation.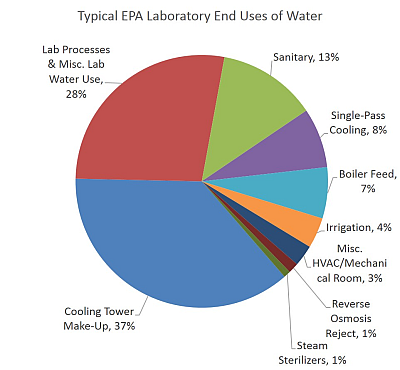 Laboratories use water for laboratory processes, water purification and steam sterilization. Laboratories also have significant heat loads, so a significant amount of water is used as cooling tower make-up. EPA has focused much of its water-saving efforts on laboratory facilities.
In 2002, EPA began reducing its water footprint, prior to any federal requirements mandating water conservation. EPA's water management planning and water use reduction efforts have produced significant results.
EPA water reduction strategies include:
Monitoring water meters and tracking use
Installing WaterSense labeled and other high efficiency restroom fixtures
Eliminating single-pass cooling
Optimizing cooling tower efficiency
Minimizing or eliminating landscape irrigation.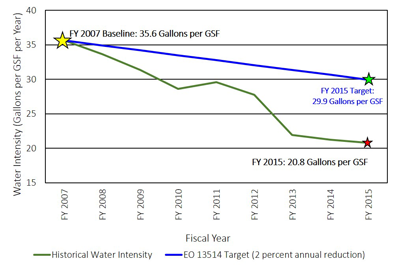 EPA Water Conservation Results
In fiscal year (FY) 2014, EPA reduced its water use by 40.4 percent compared to an FY 2007 baseline, exceeding the water intensity reductions required by Executive Order (EO) 13514.
EO 13693 extends the required 2 percent annual reduction target to FY 2025, which EPA has already exceeded. EPA continues to manage water to maintain progress and implements water projects to reduce water consumption further.
Learn more about water management plans and best practices at EPA, and how the Agency minimizes landscaping water use.