Science and Technology Center Region 7 Laboratory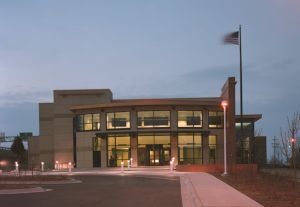 71,955 gross square feet (GSF)
Personnel: 72
Energy Intensity:
FY 2015: 233,918 Btu per GSF
9.5% reduction from FY 2003 baseline
Water Intensity:
FY 2015: 37.12 gallons per GSF
15.3% reduction from FY 2007 baseline
Kansas City, Kansas
The Science and Technology Center houses the laboratory for EPA Region 7.
Sustainable Features
The Science and Technology Center received LEED® Gold for New Construction (version 2.0) certification in August 2003.
The solicitation for offers (SFO) for the Region 7 Laboratory included green language to ensure that the facility and all its construction features promote energy efficiency and environmentally preferable materials and design.
A unique graywater reuse system collects rainwater from the roof, air handler condensate discharge and a reverse osmosis system that generates pure water for laboratory experiments. The graywater is used to flush toilets and as cooling tower makeup water.
For more information, read Sustainable Facilities at EPA: Science and Technology Center, Kansas City, Kansas, or the EPA Facility Contact List.