Robert S. Kerr Environmental Research Center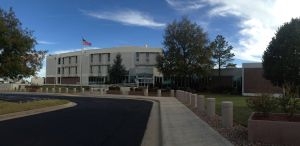 87,119 gross square feet (GSF)
Personnel: 160
Energy Intensity:
FY 2015: 128,467 Btu per GSF
13.4% reduction from FY 2003 baseline
Water Intensity:
FY 2015: 13.91 gallons per GSF
71.5% reduction from FY 2007 baseline
Ada, Oklahoma
 
Research at this laboratory focuses on soil and subsurface environments. The facility's mission is to study the transport and transformation of contaminants in soil and groundwater generated by municipal, agricultural and industrial wastes.
Sustainable Features
This is EPA's first carbon-neutral laboratory. EPA used an energy savings performance contract (ESPC) to make a variety of energy upgrades and install onsite renewable energy.
A ground source heat pump (GSHP) system installed by the energy savings contractor allows the laboratory to operate with minimal natural gas consumption for heating and reheat purposes. EPA offsets the remaining conventional electricity use by purchasing green power.
The GSHP eliminated the use of natural gas for heating and reheat purposes, significantly reducing energy consumption in the Ada laboratory. In addition to the environmental benefits, geothermal systems require lower maintenance than conventional systems.
The ESPC included a comprehensive energy efficiency upgrade of the laboratory's heating, ventilation, and air-conditioning system.
This laboratory has water-efficient fixtures, including dual-flush toilets, faucet aerators and WaterSense® labeled showerheads and urinals.
The facility has an air handler condensate recovery system, which captures condensate water and reuses it as makeup water, saving 350,000 gallons of water per year.
EPA has conducted pilot assessments at this facility to identify vulnerabilities and opportunities to improve resiliency to the impacts of climate change. EPA developed a checklist of climate change resiliency considerations, including severe weather events expected to occur in the region (e.g., high wind events).
 
For contact information, see the EPA Facility Contact List.