Research Triangle Park Main Building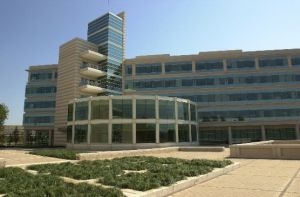 1,088,201 gross square feet (GSF)
Personnel: 1,981
Energy Intensity:
FY 2015: 295,397 Btu per GSF
47.7% reduction from FY 2003 baseline
Water Intensity:
FY 2015: 11.77 gallons per GSF
47.4% reduction from FY 2007 baseline
Research Triangle Park, North Carolina
This consolidated laboratory and office complex houses EPA employees from the Office of Research and Development; the Office of Air Quality Planning and Standards; and the Office of Administration and Resources Management. In addition to the Main facility, EPA occupies several other buildings in the Research Triangle Park (RTP) area, including:
Sustainable Features
The building's A-wing addition received the U.S. Green Building Council's LEED® Gold for New Construction (version 2009) certification in March 2015.
EPA conducted a laboratory controls optimization project that encompassed three aspects: retrofitting fume hoods; upgrading laboratory controls and variable air volume (VAV) ventilation systems; and reducing airflow supplied to offices and limiting nighttime supply air reheat. These efforts demonstrated that EPA could reduce airflow and achieve significant energy reductions while continuing to meet safety and health requirements. The project is estimated to save approximately 1.5 billion British thermal units per year.
EPA recommissioned its office tower to optimize airflows on several floors and determine the most efficient air handling unit modes of operation. EPA also updated controls sequencing and hardware specifications associated with the heating, ventilation and air conditioning system. 
A heat recovery system reduces the facility's energy use by approximately 5 percent.
A 55-kW solar photovoltaic (PV) system on the roof of Building E that employs a thin-film technology was installed as part of a comprehensive roof replacement. EPA also funded a 52.5-kW polycrystalline PV system on the roof of Building B with the energy cost savings realized through completed energy conservation projects.
An innovative air handler condensate recovery system at the Main Building collects 6 to 8 million gallons of water annually from air handlers on four main buildings to be used as cooling tower make-up water.
Water-efficient fixtures throughout the facility include flow-restricting nozzles, automated shutoff and hot and cold water delivery systems with automatic temperature controls.
Stormwater runoff is naturally treated by plant material onsite to remove contaminants. Bioretention cells are used to absorb, filter and slow runoff. Natural woodlands and wildflower plantings are used in place of turf grass to minimize the use of water, fertilizer and pesticides.
 
For more information, visit the RTP Main Building website or the EPA Facility Contact List.