Region 8 Office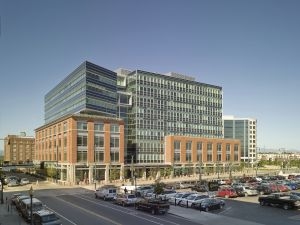 248,849 rentable square feet (RSF)
Personnel: 775
Energy Intensity:
FY 2015: 76,340 Btu per RSF
Water Intensity:
FY 2015: 11.22 gallons per RSF
Denver, Colorado
EPA's Region 8 covers the mountain states of Colorado, Montana, North Dakota, South Dakota, Utah and Wyoming. The facility is a hallmark of environmental sustainability in the Denver Lower Downtown Historic District.
Sustainable Features
The facility received the U.S. Green Building Council's LEED® Gold for New Construction (version 2.1) certification in September 2007.
The building was awarded the ENERGY STAR® in 2008, with a score of 96.
The under-floor air delivery system requires less cooling than air from overhead ducts.
The building has natural light in 85 percent of floor space. Daylight dimming controls on areas of the building perimeter reduce the amount of light needed when there is sufficient natural sunlight. Lights are only on when rooms are occupied and turn off automatically. Interior shades, exterior vertical fins and atrium sails control daylight, solar heat gain and glare.
Air side economizers and a heat recovery system improve energy performance.
The 9th floor penthouse roof houses an array of 48 photovoltaic (PV) panels, which produce 215 watts each. The grid-tied PV system provides power when the emergency generator is running to reduce generator load and fuel consumption. 
The upper levels of the building feature a three-terraced, 20,000-square-foot green roof. Plants minimize the heat island effect, absorb carbon dioxide and contribute to an estimated 26.7 percent reduction in stormwater runoff.
Indoor air quality is controlled through careful placement of exhaust and air intakes and the use of low volatile organic compound interior adhesives, paints, sealants and caulks.
For more information, visit the Region 8 website or the EPA Facility Contact List.