Region 8 Laboratory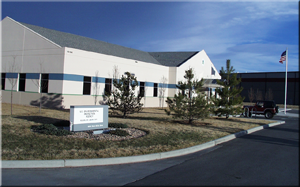 50,839 gross square feet (GSF)
Personnel: 32
Energy Intensity:
FY 2015: 436,105 Btu per GSF
13.0% increase from FY 2003 baseline
Water Intensity:
FY 2015: 60.56 gallons per GSF
13.5% reduction from FY 2007 baseline
Golden, Colorado
The laboratory performs physical, chemical, biological and microbiological analyses of water, soil, air, plant and tissue samples to support restoration of contaminated ecosystems.
Sustainable Features
The laboratory's ventilation system is reduced by 25 percent of its maximum volume after hours to save energy. The system is divided into seven zones so that if employees are working late in a particular area of the facility, that area can still have 100 percent air exchange capacity.
The heating, ventilation and air-conditioning system is monitored by a direct digital control system and alerts engineers when equipment is not operating correctly or optimally, saving time, money and energy by addressing problems immediately.
An irrigation system optimization project: replaced and raised sprinkler heads; adjusted the location of sprinklers and spray arcs; installed a rain sensor on the irrigation controller; and implemented a new irrigation schedule reduce irrigation water use 20 to 30 percent.
For more information, visit the Region 8 website or the EPA Facility Contact List.