Region 2 Caribbean Environmental Protection Division (CEPD)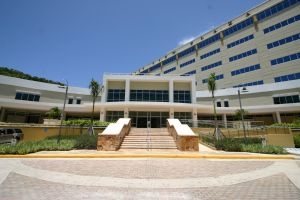 22,291 rentable square feet (RSF)
Personnel: 62
Guaynabo, Puerto Rico
CEPD moved into a multi-tenant office building in Guaynabo, Puerto Rico, in 2012 that showcases green building strategies and sustainability, energy efficiency and environmental performance. The CEPD office space is the first LEED® for Commercial Interiors (LEED-CI) project in Puerto Rico to attain Gold certification.
Sustainable Features
The building achieved the U.S. Green Building Council's LEED Gold for Commercial Interiors (version 2009) certification in October 2012.
EPA installed ENERGY STAR® qualified air conditioning units to meet the extra cooling needs required in the network and security rooms.
Daylighting strategies, energy-efficient overhead lighting and daylight and occupancy sensors save energy. Light-reflective colors, higher ceilings on exterior window walls and translucent glass in office partitions and workstation panels allow natural light to reach interior spaces.
High-efficiency toilets, urinals, faucets and showerheads reduce water consumption by 36 percent compared to conventional models.
A 150,000-gallon cistern captures rainwater and air handler condensate water, which is used to meet 100 percent of the building's irrigation needs.
During the office renovation period, EPA recycled 56 percent of its construction debris and diverted nearly 45,000 pounds of furniture used in its former office space from landfills by donating it to other federal and local agencies in the Caribbean region.
The building showcases: sustainable interior design features with low volatile organic compound emissions; 100 percent recyclable carpet flooring; workstation furniture that is Business and Institutional Furniture Manufacturer's Association (BIFMA) Level 2 certified; and Electronic Product Environmental Assessment Tool (EPEAT) Gold certified computer equipment.
For more information, read Greening the Caribbean: EPA's Region 2 Puerto Rico Office or visit the EPA Facility Contact List. A Spanish version of this document is also available: Reverdeciendo el Caribe: Oficina de Puerto Rico, EPA Región 2.