New England Regional Office
Boston, Massachusetts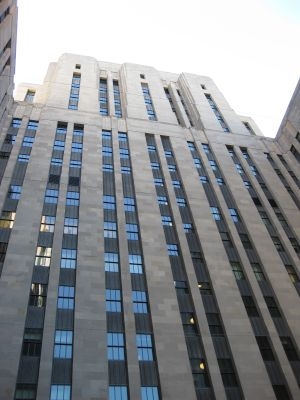 328,862 rentable square feet (RSF)
Personnel: 840
Energy Intensity:
FY 2015: 38,286 Btu per RSF
Water Intensity:
FY 2015: 4.80 gallons per RSF
EPA's New England Regional Office serves Connecticut, Maine, Massachusetts, New Hampshire, Rhode Island, Vermont and 10 Tribal Nations. Also known as Region 1, this office is the primary tenant in the historic John W. McCormack Post Office and Courthouse (POCH) in downtown Boston. The U.S. General Services Administration (GSA) and EPA worked together on a major historic renovation that removed all mechanical and electrical components of the original building but reused 99 percent of the original structure.
Sustainable Features
The building achieved the U.S. Green Building Council's LEED® Gold for New Construction (version 2.2) certification in June 2010 and LEED Gold for Existing Buildings (version 2009) certification in September 2015.
The building was awarded the ENERGY STAR® in 2011 with a score of 75, in 2012 with a score of 90 and in 2015 with a score of 96.
A green roof covering the 4th and 5th floor roof insulates the McCormack POCH, reducing energy use and costs. Native and drought-resistant plants filter bacteria and other pollutants from stormwater runoff and minimizes the heat island effect.
Insulation behind the building skin and office occupancy sensors that turn lights off when offices are unoccupied help the building conserve energy.
Daylight dimming in perimeter spaces and ceilings designed to allow deep penetration of daylight reduce the need for energy to power lights.
High-efficiency, historically appropriate windows cut down on interior heating and cooling while maintaining the building's visual appeal.
Air side economizers on the 1st, 2nd, and 3rd floors and water-side economizers for the entire building help to reduce cooling costs.
High-efficiency urinals, faucets and showers and dual-flush toilets help reduce water use.
Cisterns capture stormwater runoff, which a solar-powered pump transports to irrigate the green roof when needed.
An educational touch screen kiosk and walking tours are available to the public, and signage throughout the building describes its environmental features.
For more information, visit the Region 1 website, read Sustainable Facilities at EPA: John W. McCormack Post Office and Courthouse, or consult the EPA Facility Contact List for contact information.