National Exposure Research Laboratory and Radiation and Indoor Environments National Laboratory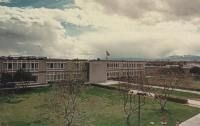 92,700 gross square feet (GSF)
Personnel: 166
Energy Intensity:
FY 2015: 175,987 Btu per GSF
32.0% reduction from FY 2003 baseline
Water Intensity:
FY 2015: 41.35 gallons per GSF
66.8% increase from FY 2007 baseline
Las Vegas, Nevada
EPA occupies space in six buildings on or near the University of Nevada-Las Vegas campus for laboratories operated by the Office of Research and Development (ORD) and the Office of Air and Radiation (OAR). ORD's National Exposure Research Laboratory evaluates and assesses exposure to environmental hazards and develops methods to monitor and measure such hazards. OAR's
Radiation and Indoor Environments National Laboratory provides technical support for radiation, indoor air quality and emergency response efforts. The laboratory facilities consist of offices, traditional wet laboratories and specialized space for indoor air laboratories, shops and environmental chambers. In addition, the laboratory operates a fleet of mobile laboratories and monitoring vehicles that are based at an off-campus facility.
Sustainable Features
EPA occupies five buildings in the La Plaza Office Complex. By August 2014, all five buildings received LEED® for Existing Buildings (version 2009) certification. Buildings A, B, C and D achieved Silver certification, and Building E achieved Gold. All five buildings have also received ENERGY STAR® certification.
For more information, visit National Exposure Research Laboratory and Radiation and Indoor Environments National Laboratory or the EPA Facility Contact List.