Large Lakes Research Station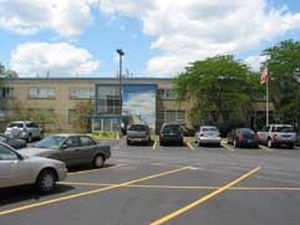 32,477 gross square feet (GSF)
Personnel: 45
Energy Intensity:
FY 2015: 148,660 Btu per GSF
49.6% reduction from FY 2003 baseline
Water Intensity:
FY 2015: 1.48 gallons per GSF
89.5% reduction from FY 2007 baseline
Grosse Ile, Michigan
The station is part of EPA's Mid-Continent Ecology Division under the Office of Research and Development. Several buildings on the former Grosse Ile Naval Air Station were repurposed to help EPA develop methods to predict and assess the effects of pollutants and polluting activities on freshwater ecological resources.
Sustainable Features
The facility was EPA's first existing building to be certified as meeting the Guiding Principles for Sustainable Existing Buildings (December 2008 version) in November 2012.
The facility replaced existing restroom fixtures with water-efficient alternatives, saving more than 150,000 gallons of water per year, and decommissioned a single-pass cooling air conditioner.
Across most of the three-acre site, grasses and shrubs are climate-suitable and survive on natural rainfall. Irrigation is limited and only applied to plants during dry conditions.
Low impact development installations include roof gutters, rain barrels that collect rainfall from building roofs, screens designed to separate debris from the rain water and a flush diverter to capture runoff from the roofs. Rainwater is used for spot irrigation in particularly dry weather.
For more information, visit Large Lakes Research Station or the EPA Facility Contact List.