Environmental Services Branch Laboratory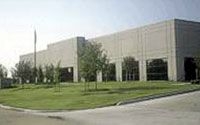 40,516 gross square feet (GSF)
Personnel: 72
Energy Intensity:
FY 2015: 492,130 Btu per GSF
13.3% reduction from FY 2003 baseline
Water Intensity:
FY 2015: 94.85 gallons per GSF
17.6% increase from FY 2007 baseline
Houston, Texas
The laboratory supports regional monitoring and criminal, civil and enforcement activities by performing evaluations and audits of environmental monitoring laboratories and public water supply laboratories.
Sustainable Features
The facility's cooling tower and main auxiliary heating unit are equipped with variable frequency drives that save energy by enhancing operation of the heating, ventilation and air conditioning system motors.
The facility's landscape system includes nine separate watering zones, efficient nozzles to provide more uniform water distribution and a weather-based irrigation controller with rain and flow sensors to prevent unnecessary watering.
For more information, visit the EPA Facility Contact List.