Environmental Science Center
Fort Meade, Maryland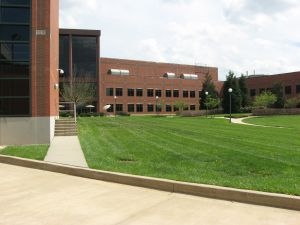 162,799 gross square feet (GSF)
Personnel: 168
Energy Intensity:
FY 2015: 319,723 Btu per GSF
18.2% reduction from FY 2003 baseline
Water Intensity:
FY 2015: 22.32 gallons per GSF
35.4% reduction from FY 2007 baseline
EPA's Environmental Science Center (ESC) houses the Region 3 Office of Analytical Services and Quality Assurance and the Office of Pollution Prevention and Toxics Analytical Chemistry and Microbiology Laboratories. The building contains more than 75 laboratories dedicated to organic and inorganic chemistry, biology, microbiology and other scientific activities.
Sustainable Features
ESC has been certified to meet the Guiding Principles for Federal Leadership in High Performance and Sustainable Buildings.
ESC was EPA's first variable air volume laboratory when it opened in 1999.
Direct digital controls monitor the status of mechanical systems to maintain efficiency, and smaller burners in each of three original, oversized boilers improve their operating efficiency.
ESC's original design provided extensive daylighting in the office and laboratory areas, as well as occupancy sensors in private offices and small support spaces. ESC initiated a lighting control system evaluation to upgrade the current lighting system to include automatic dimming.
ESC upgraded lighting controls in select areas of the facility, saving 0.9 billion Btu per year.
The Facility upgraded a boiler burner, saving an estimated 3.4 billion Btu per year.
A condensate recovery system routes water from the air handling unit cooling coils to the cooling towers and saves approximately 660,000 gallons of water annually.
Water-efficient restroom fixtures save approximately 77,000 gallons of water annually.
ESC reuses reverse osmosis-deionized permeate water as boiler make-up water, saving the facility approximately 140,000 gallons of water annually.
Native trees and shrubs were incorporated into the landscaping to avoid the use of an irrigation system. Grass at ESC is allowed to go dormant during the summer, and drip bags for trees and other plants are used only as necessary during extremely dry periods.
Maryland was one of the first states to mandate stormwater management, protecting the Chesapeake Bay from environmental degradation. ESC's stormwater management system includes grit separation, infiltration trenches, overland flow and bio-filtration to treat contaminants, oil and trash from the parking lot, roofs and grounds.
ESC employees helped construct a rain garden with native grasses, goldenrod, coneflowers and rain chains to help reduce splash erosion.
For more information, visit the Region 3 website or the EPA Facility Contact List.