Center Hill Facility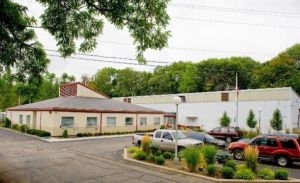 20,468 gross square feet (GSF)
Personnel: 30
Energy Intensity:
FY 2015: 265,542 Btu per GSF
4.8% increase from FY 2003 baseline
Water Intensity:
FY 2015: 14.81 gallons per GSF
62.8% reduction from FY 2007 baseline
Cincinnati, Ohio
Part of EPA's second-largest research and administrative campus, the Center Hill Facility specializes in municipal solid waste research, including disposal, residuals management, soil contamination and risk reduction engineering.
Sustainable Features
By using a nighttime setback mode for its heating, ventilation and air conditioning system, the facility cuts its energy demand in half on nights, weekends and holidays.
Energy-efficient lights in the office and high bay areas help reduce energy consumption.
For more information, visit the EPA Facility Contact List.