GreenChill Benefits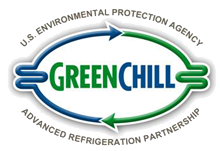 Through the GreenChill Partnership, food retailers profit from a variety of benefits, leading many companies to have a competitive advantage within the industry. Benefits range from environmental and economic to informational and promotional, and are discussed in more detail below.
Environmental Benefits

The GreenChill Partnership helps decrease the environmental impact of commercial refrigeration systems on the ozone layer and climate change. GreenChill assists Partners in developing and attaining corporate environmental stewardship and sustainability goals. During the first year of membership, GreenChill Partners on average reduce their corporate refrigerant emissions by almost 10%.

GreenChill also encourages emission reductions at individual stores through its Store Certification Program. To achieve GreenChill certification, a store must emit at least 65% less refrigerant than the average supermarket.

Consumers want to do business with companies that share their environmental values. As a GreenChill partner, your environmental achievements are measured, certified, and reported to the public for you!

Economic Benefits

Refrigerant leaks can have a costly impact on your company's bottom line. The amount of refrigerant leaked from a commercial refrigeration system eventually needs to be replaced. Leaky systems also require maintenance and repairs that come at a high cost. By eliminating refrigerant emissions now, you are saving your company time and money down the road.

Regulatory requirements may also eventually have a monetary impact on your company's success. Preparing for upcoming and anticipated legislation now will reduce your need for costly refrigerant retrofits in the future.

Other Benefits

The GreenChill Partnership provides Partners with the support and information to strategically reduce emissions and save money. Partners have access to state-of-the-art EPA research, including a theoretical study on advanced refrigeration technologies and EPA/industry field tests on substitute refrigerants and advanced refrigeration technologies. Partners are also provided with tools such as best practice guidelines and information on new technologies and servicing practices.

Through regular meetings, Partners have the opportunity to ask questions and share information among each other. Through information sharing and GreenChill's benchmarking system, Partners are able to evaluate their relative progress towards individual environmental goals.

To highlight this progress, each year Partners are presented with awards that recognize their outstanding achievements and efforts towards reaching their environmental goals. Sharing these accomplishments and achievements with the public is an important aspect of the GreenChill Partnership. In addition to awards and plaques, Partners have access to a variety of marketing materials to highlight their participation in the GreenChill Partnership, including in-store banners as well as T-shirts and hats.
How will GreenChill Benefit You?