Become a GreenChill Partner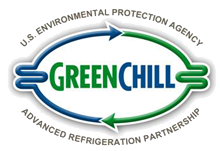 Who Can Join
The GreenChill Partnership focuses on food retailers including supermarkets, grocery stores, supercenters, and wholesale clubs. To be eligible to join the partnership, a food retailer must:
Be willing to reduce company-wide refrigerant emissions
Have no current Clean Air Act enforcement issues
Refrigeration system manufacturers that promote the adoption of advanced refrigeration technologies, strategies, and practices are also eligible to join the partnership.
How to Join
To join GreenChill, an authorized representative of the prospective Partner Company must agree to and sign a GreenChill Partnership Agreement. The agreement outlines the Partnership's goals and the responsibilities that each partner must meet. Once EPA completes its enforcement screening and the Partnership Agreement is countersigned by an EPA representative, the new Partner is admitted into the Partnership.
For more information about joining the GreenChill Partnership and to receive a Standard Partnership Agreement, please contact Tom Land or call 202-343-9185.