Green Infrastructure Webcast Series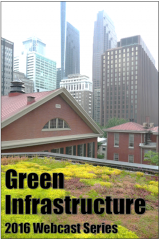 EPA's Green Infrastructure Webcast Series is for public officials and practitioners beginning to implement green infrastructure, as well as for those looking to enhance established programs. Initiated in 2014, the Series has featured leading academics and professionals from around the country sharing their expertise on a range of topics related to green infrastructure
On this page:
To receive updates on upcoming webcasts and registration availability, sign up for U.S. EPA's GreenStream listserv by sending a blank email to join-greenstream@lists.epa.gov. For questions on the webcast series, please contact Katelyn Amraen (amraen.katelyn@epa.gov).
Upcoming Webcasts
Check back in early 2017 for the announcement of our 2017 Webcast Series!
Past Webcasts
Building the Case for Green Infrastructure: Outreach and Education — In this webcast:
Designing, implementing, and maintaining green infrastructure at the local level requires support and participation from the community. This webcast addressed strategies and lessons learned from two dynamic outreach and education programs. Madison Quinn from Onondaga County, NY, presented on the Save the RainExit program. Mike Heimos from Columbia, MO, presented on the Stormwater Utility Education ProgramExit. 
Lessons Learned in Green Infrastructure — In this webcast:
Speakers from EPA's Office of Research and Development and KC WaterExit in Kansas City, Missouri highlighted lessons learned from green infrastructure practices. Experience with on-the-ground implementation provides a broad base for learning.  This webinar provided helpful green infrastructure lessons learned for communities, states and other practitioners across the nation.
Greening Your Backyard: Water Efficiency and Stormwater Solutions for Homeowners and Communities — In this webcast:
This webcast combines the power of two successful EPA water programs and their partner organizations to bring homeowners and communities some of the latest tools and information on water efficiency and stormwater solutions. Featured speakers are from EPA's WaterSense program and Texas A&M, who discussed their efforts to encourage outdoor water conservation, and from EPA's Soak Up the Rain program and the Massachusetts Watershed Coalition, who highlighted the importance of public awareness and action on preventing stormwater runoff.
Greening Vacant Lots — In this webcast:
Jenny Guillaume, Growing Green Initiative Coordinator in the Office of Sustainability, City of Baltimore, Julie Barrett O'Neill, Green Program Director in the Buffalo Sewer Authority, City of Buffalo, and Sandra Albro, Research Associate in Applied Urban Ecology, Cleveland Botanical Garden spoke about vacant lot greening programs and specific landscape treatments that they have used in their communities. 
Ahead of the Curve – Implementing Green Infrastructure in Rural and Growing Communities — In this webcast:
Dan Canton, City Administrator of Monona, Iowa, Jon Biederman, Civil Engineer/Branch Manager of Fehr Graham, and Duncan Hughes, Executive Director of the Soque River Watershed Association shared their strategies for using green infrastructure to solve water quality and quantity problems in small, rural communities.
Winter Weather O&M for Green Infrastructure — In this webcast:
Tom Ballestero, Director, University of New Hampshire Stormwater Center, Brooke Asleson, Watershed Project Manager, Minnesota Pollution Control Agency, and Matt Morreim, Assistant Street Maintenance Engineer, City of St. Paul, MN shared some of the realities of winter O&M and best practices for winter stormwater management. This webinar builds off of the information shared in U.S. EPA's 2014 O&M Webcast.
Paying for Stormwater - The Benefits of a Utility — In this webcast:
Andrew Reese of AMEC Foster Wheeler, Dr. Robert Chandler of the City of Salem, OR, and Sheila Dormody of the City of Providence, RI shared their efforts in creating different stormwater authorities.
Getting More Green from your Stormwater Infrastructure — In this webcast:
Chris Kloss from the U.S. EPA's Green Infrastructure Program, Dan Christian from Tetra Tech, and Andrew Potts from CH2M HILL discussed different ways of communicating both cost savings and benefits related to green infrastructure.
Green Infrastructure for Arid Communities — In this webcast:
Neal Shapiro from the City of Santa Monica discussed green infrastructure strategies in southern California and Emily Brott of the Sonoran Institute presented on partnerships with two Tucson, Arizona-based programs.
Green Infrastructure for Localized Flood Management — In this webcast:
Lori Cary-Kothera, operations manager at the National Oceanic and Atmospheric Administration's Office for Coastal Management, and Patekka Bannister, chief of water resources for the city of Toledo, Ohio, discussed assessing green infrastructure costs and benefits.
Tony V. Demasi, city engineer for the city of Cuyahoga Falls, Ohio, and Kari A. Mackenbach, national green infrastructure practice leader for URS, discussed managing flooding with green infrastructure solutions in Cuyahoga Falls.
Innovative Financing for Green Infrastructure — In this webcast:
Jennifer Cotting, research associate for Green Infrastructure from the University of Maryland Environmental Finance Center, provided an overview of green infrastructure financing;
Deron Muehring, civil engineer from the city of Dubuque, Iowa, discussed financing a flood mitigation project that incorporated green infrastructure; and
Lori Beary, State Revolving Fund coordinator from the Iowa Finance Authority, discussed the Clean Water State Revolving Fund program for financing nonpoint source projects.
Green Infrastructure and Smart Growth — In this webcast:
Melissa Kramer, senior policy analyst from EPA's Office of Sustainable Communities, and Caran Curry, interim assistant city manager for the city of Little Rock, Arkansas, discussed continuing efforts to build green infrastructure into downtown revitalization; and
Heather Nix, Clean Air & Water Program director, and Erika Hollis, Clean Air & Water project manager from Upstate Forever in Greenville, South Carolina, discussed incentive programs that encourage new development and redevelopment that is better for water quality.
Building Climate Resiliency with Green Infrastructure — Elizabeth Sawin of Climate Interactive highlighted their Green Infrastructure Decision Support Tool, and Alan Cohn, Mikelle Adgate, and Carolina Griggs from the New York City Department of Environmental Protection shared efforts to incorporate climate resiliency into system planning.
More Bang for the Buck: Integrating Green Infrastructure into Existing Public Works Projects— Charlotte Katzenmoyer of the city of Lancaster, Pennsylvania, and Matthew Millea of Onondaga County, New York, shared lessons learned from integrating green infrastructure into city, state, and regional public works projects.
Case Studies: Implementing Green Infrastructure under Enforcement Orders — Kyle Dreyfuss-Wells of the Northeast Ohio Regional Sewer District and Andy Shively of Kansas City Water Services presented case studies on integrating green infrastructure into EPA enforcement agreements.
O&M and Green: Best Practices for Green Infrastructure Operations and Maintenance — Karen Sands and Dr. Bill Hunt discussed ensuring proper O&M of green infrastructure systems.
Related Webcast Series
Watershed Academy Low Impact Development Webcasts — EPA's Watershed Academy offers monthly webcasts related to the implementation of watershed approaches to preserve and restore aquatic ecosystems. It has presented nine 2-hour webcasts on green infrastructure.