History of Fuel Economy Labeling
Fuel economy labels have been displayed on the window sticker of all new light duty cars and trucks since the mid-1970s, as required by the Energy Policy and Conservation Act. By making this data easily accessible via the label, consumers were able to make more informed choices regarding fuel efficiency when shopping for a new vehicle.
The label has been updated many times over the years to reflect a modernizing fleet and improvements in vehicle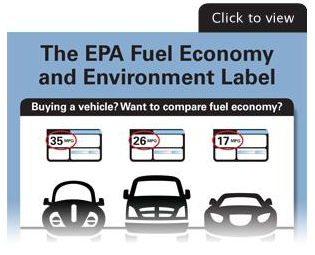 testing, while also providing enhanced visuals to better inform consumers. The label was most recently updated for model year 2013, and now includes:
New ways to compare energy use and cost between new-technology cars that use electricity and conventional cars that are gasoline-powered.
Estimates on how much consumers will save or spend on fuel over the next five ears compared to the average new vehicle.
Easy-to-read ratings of how a model compares to all others for smog and greenhouse gas emissions.
An estimate of how much fuel or electricity it takes to drive 100 miles.
Information on the driving range and charging time of an electric vehicle.
A QR Code®1

 

that will allow users or smartphones to access a vehicle's online information on fueleconomy.gov. 
(footnote:) 1  QR Code is registered trademark of DENSO WAVE INCORPORATED.