Map of Superfund Enforcement Cleanup Work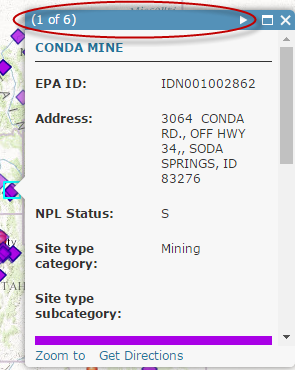 The Superfund Enforcement Cleanup Work Map contains hundreds of data points for sites where work is currently being performed as a result of an enforcement settlement or order. Data points with darker coloration indicate either that the site has multiple enforcement agreements or orders related to the ongoing cleanup work, or the geographic proximity of sites is producing a layering effect of sites on the map.
When clicking in a geographic area with multiple sites grouped together, you can easily click through a group of data points within the same pop-up window. Click on the arrow symbol in the top right part of the pop-up (highlighted by a red oval in the screenshot to the right).
The data for the map is current through September 30, 2015. The next update to the map is anticipated in April 2017.
To submit a question, feedback, or technical issue about the map, visit our "Submit a Request" form.