E3 Hiring Veterans Is a Smart Investment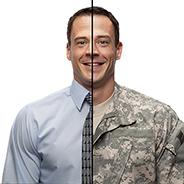 The E3 framework offers opportunities to strengthen manufacturing in the United States while supporting our nation's heroes. By hiring a veteran, you gain an employee with integrity, technical know-how, and transferable skills.Veterans are struggling to find meaningful work, while manufacturing jobs in the United States are vacant because companies cannot find workers with the appropriate skills.
Include Veterans' Representatives on the E3 Team
When forming an E3 team in your local community, consider inviting veterans' representatives from your Local Veterans' Employment Representatives Program (LVER) or your local Disabled Veterans' Outreach Program (DVOP) Exit. By participating on the E3 team, veterans' representatives will gain a better understanding of the knowledge and skill sets local businesses require. Better informed, the representatives can then offer veterans more effective employment and training services. Find your local LVER and DVOP representative Exit and introduce them to the E3 framework.
Expand the Workforce by Hiring Veterans
When companies have implemented E3 recommendations to the point where they are looking to expand their workforce, they may be able to take advantage of tax credits and other incentives by hiring veterans.
Add Veterans to the E3 Technical Assistance Team
If you need to expand or train your existing E3 technical assistance team, consider adding skilled veterans to the team. Many veterans share the same skill sets as E3 technical assistance providers, but they need specific training to conduct assessments. VETNET Exit and the resources below can help you match skilled veterans to your E3 team.
Related Programs

Joining Forces, a White House initiative led by First Lady Michelle Obama and Dr. Jill Biden, is seeking commitments from American businesses to meet its goal of hiring or training 375,000 veterans and military spouses by the end of 2014. Participating in this initiative is not only the right thing to do, but a smart thing to do for American businesses and their bottom lines. Tax credits up to $9,600 for hiring veterans are available through the Veterans Opportunity to Work Act and the Wounded Warrior Tax Credit.

Career One-Stop are the heart of the public workforce system, and the access point to qualified workers as well as federal, state, and local resources and assistance. These Centers place a multitude of resources for businesses and for job seekers under one roof. The typical Center serves thousands of people who are seeking employment, changing jobs, reentering the workforce, or learning new skills. That makes American Job Centers an ideal source of workforce solutions for many firms. There are approximately 2,700 Centers located in all 50 states and Puerto Rico.

The Department of Labor's American Heroes at Work Toolkit has been designed to assist and educate employers who want to include veterans and wounded warriors in their recruitment and hiring initiatives. Featuring a straightforward six-step process, it pinpoints helpful tools and outlines important steps to take when designing a veterans' hiring initiative.

Hiring Our Heroes Exit is a program of the U.S. Chamber of Commerce. Working with the U.S. Chamber of Commerce's network of 1,600 state and local chambers and other strategic partners from the public, private, and nonprofit sectors, Hiring Our Heroes helps veterans find meaningful employment by hosting hiring fairs nationwide.

USTechVets.org Exit is a collaborative effort of the Consumer Electronics Association (CEA), Northern Virginia Technology Council (NVTC), and Monster.com focused on reducing veteran unemployment and giving technology industry companies access to American's veteran workforce.