Climate Change and Waste
On This Page
---
Climate and life cycle of stuff
Making smart choices about what we buy, how we use it, and how we dispose of it can make a big difference in the amount of waste we produce and the greenhouse gas emissions associated with our consumption. The manufacture, distribution and use of the goods and food we rely on in our daily lives—as well as management of the resulting waste—all require energy. This energy mostly comes from fossil fuels, which are the largest global source of heat-trapping greenhouse gas (GHG) emissions.
In every stage of the life cycle, we can reduce our impact. Click on the Life Cycle of Stuff to learn about the greenhouse gas emissions that result from each step in a product's life cycle. Find out what you can do to reduce your carbon footprint.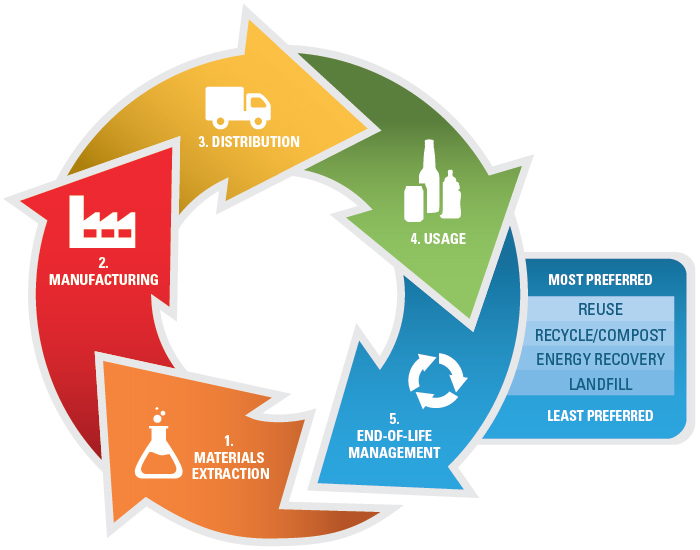 ---
Climate and waste statistics
The 2009 report, Opportunities to Reduce Greenhouse Gas Emissions through Materials and Land Management Practices, shows that approximately 42 percent of U.S. greenhouse gas emissions are associated with the energy used to produce, process, transport, and dispose of the food we eat and the goods we use. This includes the extraction or harvest of materials and food, production and transport of goods, provision of services, reuse of materials, recycling, composting, and disposal. The report also indicates the following:
29 percent of U.S. greenhouse gas emissions result from the provision of goods produced within the United States.
The provision of food contributes another 13 percent of U.S. greenhouse gas emissions.
Traditional "waste" management represents 1 to 5 percent of U.S. greenhouse gas emissions.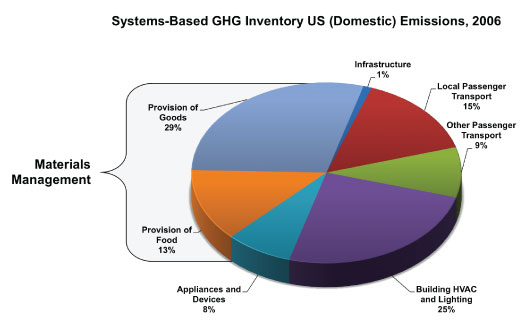 Source: Opportunities to Reduce Greenhouse Gas Emissions through Materials and Land Management Practices
---