---
​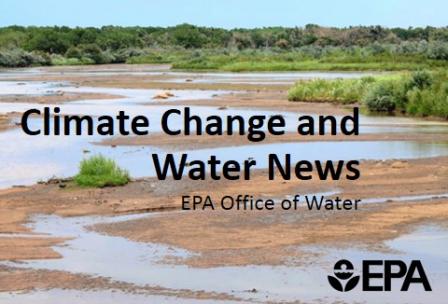 EPA Climate Change and Water News features news and information from EPA and other federal agencies related to climate change and water. Partner activities, as well as related events and publications, are also included. The newsletter is sent out approximately every two weeks to subscribers. Issues from the past three months are available below.
To submit an item for EPA Climate Change and Water News, provide feedback, or contact us with questions:
Send an email to water_climate_change@epa.gov.
 
---
EPA Climate Change and Water News: Recent Editions
Below are past issues of the newsletter. To download a newsletter, click on an issue or scroll to the bottom of the page.
EPA Updates the State Water Agency Practices for Climate Adaptation Webpage
EPA and U.S. Geological Survey Release Report on Protecting Aquatic Life from Effects of Hydrologic Alteration
Explaining Extreme Events from a Climate Perspective 
Bureau of Reclamation Seeking Letters of Interest to Participate in WaterSMART Basin Study
Secretarial Order on Actions to Address Effects of Drought and Climate Change
NOAA Water Initiative
Progress Toward Restoring the Everglades: The Sixth Biennial Review
Rain as a Resource: St. Paul, MN Innovates Shared, Sustainable Stormwater Management

---
EPA Releases Updated Federal Interagency Report on Freshwater Resources in a Changing Climate
Climate and Health Assessment Kits Now Available from EPA
EPA Launches Water Progress Storymap
White House Announces Actions to Protect Natural and Cultural Resources in Alaskan Arctic Ocean 
A New Interactive Education Module on Climate Change Responses
Landscape Conservation Cooperative Network Story Map
How Transit Agencies Are Prepping for the Next Big Storm
2017 National Environmental Justice Conference and Training Program
Climate Change, Hydrology, and Fish Morphology
Building the Next Generation of Climate Justice Leaders
EPA Training Module "Understanding Climate Change Impacts on Water Resources"
1.3 Million Awarded for Community-Based Projects to Improve Health and Ecosystem of Long Island Sound
EPA Provides $149,000 for Environmental Improvements in San Juan, Puerto Rico
Rebuilding Healthy Homes Guide to Post-Disaster Restoration for a Safe and Healthy Home
NOAA Research Links Human-Caused CO2 Emissions to Dissolving Sea Snail Shells Off U.S. West Coast
Building Resilience to Climate Change One Landscape at a Time 
Take A Deeper Look into the 2010-2015 Texas Drought Through this New Interactive Web App  
Safeguarding Our Cultural Past from Climate Change at Cape Lookout
Building Resilience in the San Francisco Bay Region
Climate Adaptation: The State of Practice in U.S. Communities
Study Shows Ocean Acidification is Two-Front Assault on Coral Reefs
A How-To Guide for Co-Production of Actionable Science
Report Highlights Lessons from the Rebuild by Design Competition 
EPA Launches New Guide for Long-Term Stormwater Planning 
EPA to Host Webinar Series on Financing Disaster Recovery and Resilience Mitigation for Water and Wastewater Utilities 
EPA Releases the Environmental Justice 2020 Action Agenda
EPA Awards $3.9M to University of Texas for Water Infrastructure Modeling Research Center
White House Council on Climate Preparedness and Resilience Releases Report on Federal Resilience Opportunities
NOAA Funding Opportunity for Climate-Related Fisheries Research
New Publication on Climate Change and Indigenous Peoples
Ecological Drought in the South Central United States
Signatures of Extreme Precipitation Events in the Western U.S.
Storm Wave Study Could Help Improve Design of Coastal Defenses
Marine Carbon Sinking Rates Confirm Importance of Cold Water Oceans
EPA Awards More than $4 Million for Three Projects to Protect and Restore San Francisco Bay 
New Section of the CRT Helps Cities and Towns Build Resilience 
Updated SECURE Water Act Report to Congress
NOAA Awards $44 Million for Climate Research to Improve Community Resilience 
Environmental Protection: Information on Federal Agencies' Expenditures and Coordination Related to Harmful Algae Report
Nominations Open for Climate Adaptation Leadership Award
Subdivision Design and Flood Hazard Areas Guide
The Cost of Alternative Water Supply and Efficiency Options in California 
Michigan Office of the Great Lakes Releases Final Part of State Water Strategy 
Water Hotspots for Agriculture: The Southwest United States
New Web Portal to Help Communities Prepare for Climate Change 
Building the Next Generation of Climate Justice Leaders
$1.3 Million to Revitalize America's Urban Waters and Surrounding Communities
EPA Awards $1.2 Million in Environmental Justice Collaborative Problem-Solving Cooperative Agreements
EPA Offers Assistance to Help Rural Communities Revitalize Downtowns
Release of Southeast Climate Science Center Synthesis Report
NOAA and Sea Grant Fund $800,000 in Research to Understand Effects of Ocean Changes on Iconic Northeast Marine Life
DoD Decision Making and Climate Change Webinar on October 20
Identifying Drought Risks and Impacts in the Northeast and Midwest
NOAA Awards $2.5M to Build Community Resilience
New Pacific Islands Regional Climate Assessment Website
New Report Explaining Ocean Warming
Future Fisheries Can Expect $10 Billion Revenue Loss Due to Climate Change
EPA Launches the Climate Resilience Evaluation and Awareness Tool (CREAT) Version 3.0
EPA Awarded GreenGov Presidential Sustainability Awards
EPA Announces Over $4.6 Million in Grants for Coastal Watersheds in Southeast New England
New EPA Study Supports the Long-term Benefits of Green Infrastructure
New Public-Private Partnership Helps Leverage Open Data to Build Climate Resilience 
President Obama Takes a Historic Step to Address the National Security Implications of Climate Change
Climate Change Increased Chances of Record Rains in Louisiana by at Least 40% 
Arctic Sea Ice Ties for 2nd Lowest in 2016
Georgetown Climate Center Releases New Green Infrastructure Toolkit
A Community Guide for Evaluating Future Urban Water Demand
Climate Change Increasing Beach Salinity
Great Lakes Warming Faster in Certain Regions
EPA Releases New Report on Green Infrastructure and Climate Change
EPA Kicks Off Fifth Annual Campus RainWorks Challenge 
New Climate Projections Aim to Better Represent Extreme Events
Fourth National Climate Assessment Author Nominations and Technical Inputs
Shifting Sport Fish Populations Under Climate Change
Atmospheric River Landfall-Latitude Changes in Future Climate Simulations
Fish Adjusting Body Defenses to Deal with Acidification
Urban Stream Quality Assessment Model 
Rising Tides: Designing Resilient Amenities for Coastal Cities
Review of the Significance of Dissolved Methane on Wastewater Treatment
Successful Simulation of the Pineapple Express
EPA Releases New Fact Sheets on Climate Change 
EPA Hazard Mitigation for Natural Disasters
U.S. Tribes Work with Scientists to Adapt to Climate Change
NOAA Launches America's First National Water Forecast Model
August 2016: Extreme Rain and Floods Along the Gulf Coast 
Considering Climate Change for Coastal Adaptation
Forests, Droughts, & Water: Challenges for the Future
$7 Million National Science Foundation Grant
Developing a Snow Monitoring Network in a Forested Mountain Watershed
Headwater Streams May Export More Carbon Than Previously Thought 
Snowmelt Rate Dictates Streamflow
Erie County Town Receives Funding to Improve Water Quality in Lake Erie
NOAA Releases Updated Climate Explorer Tool
White House Promotes EPA Innovation Challenges to Reduce Nutrients in Waterways
NOAA Releases Updated Digital Coast Website
Agriculture and Natural Resources Science for Climate Variability and Change Challenge Area 
Climate Change Impacts on Streamflows in the Pacific Northwest
$10 Million Grants Program to Build Healthy, Resilient Coastal Communities
2016 Report Outlines U.S. Military on the Front Lines of Rising Seas
New Jersey Climate Adaptation Alliance Releases Report on Climate Change
New Online Tool for Exploring Sea Level Rise and Flood Risks
Long-Term Pacific Climate Cycle Linked to Expansion of Antarctic Sea Ice
EPA Releases 2016 Climate Change Indicators Report
EPA Leads New Effort to Improve America's Aging Infrastructure 
EPA Announces Fifth Annual Campus RainWorks Challenge
Webcast on EPA Hydrologic and Water Quality System (HAWQS) Beta Modeling System – August 16
Using Climate Impacts to Strengthen Decision Making
New Statistically Downscaled Climate Data for the Conterminous U.S.
NOAA Releases 2015 State of the Climate Report
Report Published on Engaging the Public on Sea Level Rise and Inundation
National Weather Center Survey on Heavy Rainfall
New Georgetown Climate Center Adaptation Clearinghouse
​Drought and Equity in the San Francisco Bay Area
Climate Ready Estuaries Program Adds Sea Level Rise Resources to Website 
Webcast on EPA Hydrologic and Water Quality System (HAWQS) Beta – August 16
U.S. Global Climate Research Program Seeks Public Comment on Outline for Fourth National Climate Assessment by July 29
White House Announces Champions of Change for Climate Equity
NOAA Develops Guide for Considering Climate Change in Coastal Conservation
U.S. Experienced At Least 8 Billion-Dollar in Disasters So Far this Year
NOAA Announces $4.5M in Funding for New Observing Technologies for ENSO Research and Predictions
New Studies Show Climate Change is Affecting North American Fish
Report Released on Managing Water in California and Australia During Drought
Part 3 in Series on National Park Service and Climate Change: "Sea-Level Rise Could Wash Away Our Natural and Cultural History"
Journal Article: Ocean Acidity to Blame for Thinning Mussel Shells
Public Comments on "Priorities for Managing Freshwater Resources in a Changing Climate" Due July 15
U.S. Geological Survey: Climate Science Center (Re)Competition Closing July 19
Assessing the Vulnerability of Karst Aquifers to Climate Change
Webinar July 21: Science and Tools for Drought Preparedness with the Wind River Reservation
Gulf of Mexico Alliance Releases Third Governors' Action Plan for Healthy and Resilient Coasts
U.S. Fish and Wildlife Service: Marine Communities Impacted by Extreme Climate Events, Statement of Interest; Due Aug. 1
National Science Foundation: Prediction of and Resilience against Extreme Events; Letters of Intent Due July 29
Click on a file below to download a past newsletter
You will need Adobe Reader to view some of the files on this page. See EPA's About PDF page to learn more.