EPA Office of Children's Health Protection Honors the 2016 Children's Environmental Health Excellence Awardees
On October 13, 2016, the Environmental Protection Agency, Office of Children Health Protection recognized the 2016 Children's Environmental Health Excellence Awardees at the Children's Environmental Health Network's inaugural Children's Environmental Health Day Event.  The awardees were recognized for their significant impact to increase the number of health professionals who can address children's environmental health concerns.
2016 Awardees
Patricia J. Wood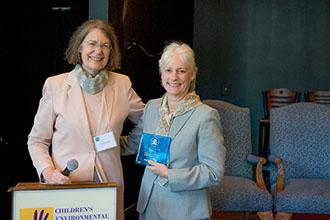 Patricia Wood is an author, educator and Executive Director of Grassroots Environmental Education. She is being awarded based on three distinct initiatives undertaken to advance the knowledge of children's environmental health issues in the medical community and beyond. These include teaching courses on environmental exposures and children's health at Adelphi University's College of Nursing and Public Health, authoring Helping to Heal, a book for caregivers and parents of children with serious illnesses distributed through hospitals across the country, and the creation and development of the BabySafe Project, a program designed to inform doctors, neonatal health professionals and parents about the potential risks that wireless radiation poses to pregnancy.
Genny Carrillo, M.D., Sc.D., MPH, MSPH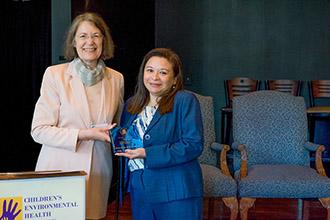 At the Texas A&M Health Science Center, School of Public Health, Dr. Carrillo found that there was a high hospitalization rate in South Texas due to asthma. Determined to use her background in environmental health to help, she forged relationships with health professionals and organizations in the community, that later formalized into the McAllen Asthma Coalition. This group focused their efforts on creating awareness of asthma in local communities. Dr. Carrillo also developed an asthma program that provides education to both, children diagnosed with asthma, and their families. A major component of this program is a curriculum developed by Dr. Carrillo that is certified by the Texas Department of State Health Services and offers continuing education credits. The goal of this component is to provide training to health professionals such as community health workers, respiratory therapy students, school nurses and physician assistants. These individuals use the knowledge gained to provide asthma education to children and their families and also provide training to peers and colleagues via a "train-the-trainer" model.
The Break the Cycle Program – Represented by Dr. Leslie Rubin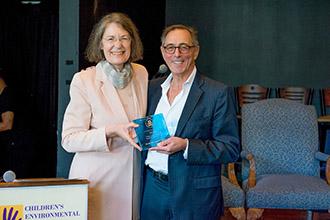 Break the Cycle is a collaborative interdisciplinary research and training program involving university faculty who mentor graduate and undergraduate students in academic tracks that focus on the impact of environmental factors on children's health, particularly environmental health disparities.
Students come from a variety of disciplines that relate to children's environmental health that include, but are not limited to, pediatric medicine, nursing, environmental health, public health, social work, sociology, biology, law and economics. Each student is required to develop a project that focuses on reducing or preventing environmental health related illnesses and disorders of children who live in communities where environmental hazards are related to circumstances of social and economic disadvantage. At the completion of the project, the students present their studies and their findings at a national conference and are then required to write papers that will be published in a journal and then in a book. The program was initiated in 2004 as a partnership between the Southeast Pediatric Environmental Health Specialty Unit at Emory University and Innovative Solutions for Disadvantage and Disability, a community based non-profit dedicated to promoting health equity among children who live in circumstances of social and economic disadvantage. To date, there have been 11 annual conferences with more than 100 students and multiple journal articles and book publications.