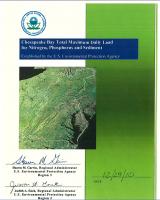 On December 29, 2010, the U.S. Environmental Protection Agency established the Chesapeake Bay Total Maximum Daily Load (TMDL).  The report is available for viewing below.  Due to the length of the report, it is divided by sections and appendices.  The Executive Summary outlines the background, development, accountability features and allocations of the TMDL.  Sections 1 through 14 serve as the main report and provide much more detail.
Click on the links below to read through the different portions of the report.
View the Chesapeake Bay TMDL appendices.
---
You will need Adobe Reader to view some of the files on this page. See EPA's About PDF page to learn more.