Profiles of Women of EPA: Tanya Lawrence
---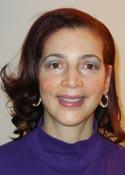 Tanya Lawrence, Attorney Advisor
Office of Enforcement and Compliance Assurance
Washington, DC
Where were you born?
Newark, NJ.
What brought you to EPA?
Before coming to EPA, I served as a Department of Energy attorney in the Office of General Counsel's Environment Division, where I worked on environmental impact statements under the National Environmental Policy Act. I came to EPA specifically to broaden my experience in environmental law, but I found other opportunities to expand my practice and federal career
What type of work do you do at EPA?
I describe myself as "an EPA attorney who doesn't practice environmental law" because I provide legal and policy advice to help managers resolve labor and employment issues. Most of my tenure at EPA has been as an attorney in the Office of General Counsel, where I worked on cross-cutting regulatory requirements and agency operational matters, such as civil rights, grants, and appropriations.
I've worked on a wide variety of issues during my years at the agency, including developing a rule for ferrous alloys under the Clean Air Act, working on a mediation program for workplace disputes, developing a national training module and guidance on using race in agency decision-making, and writing final agency decisions regarding discrimination complaints.
What is your highest level of education? What was your major?
I received a juris doctor degree from the Howard University School of Law and a bachelor of science in urban studies and planning from the Virginia Commonwealth University.
What message would you like to send other women who are considering college or a career in environmental protection?
Do more thanconsider college: develop and execute a solid plan to obtain a college education or other specialized training to open doors of vocational and economic opportunity. Find male and female mentors to help you make wise career decisions and negotiate issues related to workplace culture. In addition to becoming an expert in environmental protection or another field, become proficient in technology, project management, and conflict resolution. And don't ever neglect the development of your character. A lack of integrity or other character deficiency will prevent you from achieving your highest aspirations.