Profiles of Women of EPA: Sandra Rivera
---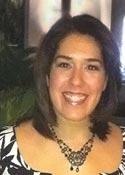 Sandra Rivera, MBA, EPA's Hispanic Employment Program Manager Council Chair
Office of Water
Washington, DC
Where were you born?
I was born in Lynn, Massachusetts. My mom is from Cali, Colombia and my dad is from Arecibo, Puerto Rico.
What brought you to EPA?
I first joined EPA as a contract specialist for the Emergency Response Service Center in the Office of Acquisition Management. EPA appealed to me because I saw many opportunities to develop my leadership skills within the agency.
What type of work do you do at EPA?
I have worked with various divisions and issues ranging from acquisition and procurement, program management, budgeting, and oversight of state and regional programs to information technology. As a person who thrives on challenge, I enjoy working on new projects to maintain a diversified skill set. I have worked on various IT projects that included online communication and multimedia tools that improve overall efficiency. Additionally, I have had the opportunity to administer multimillion-dollar contracts for the Superfund program, where I advised and trained on-scene coordinators from the Office of Emergency Management on better business practices.
In 2014, I took on the role of EPA's Hispanic Employment Program Council Chair, where I work with Hispanic Employment Program Managers throughout EPA headquarters, regions and labs to support diversity efforts across the agency. In this role, I actively work with the Office of Civil Rights; Office of Diversity, Advisory Committee Management and Outreach; and the Office of Public Engagement on recruitment, retention, and Hispanic outreach efforts.
What is your highest level of education?  What was your major?
I hold a bachelor of science in international business management from the University of New Haven and an MBA from Trinity Washington University with a focus on business administration.
What message would you like to send women who are considering college or a career in environmental protection?
Be a risk-taker and learn to explore new environments as you venture into newdestinations. Become an agent of change within your community!