Profiles of Women of EPA: Marva King
---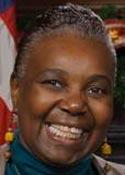 Marva King, Program Manager
Office of Air and Radiation
Washington, DC
Where were you born?
Bainbridge, MD.
What brought you to EPA?
While writing a graduate research paper on environmental policy at the University of Delaware, I discovered the concerns associated with environmental injustices in local communities. I immediately changed my career completely. At that time, I was working at the Department of the Navy Naval Facilities Engineering Command in Philadelphia, Pa. I obtained an interagency detail (a short-term assignment) to work at EPA through OPM's Women's Leadership Program. During this assignment, I joined the newly formed Office of Environmental Justice under its first Director, Dr. Clarice Gaylord.  Dr. Gaylord hired me two months later.
What type of work do you do at EPA?
I manage the Community Action for a Renewed Environment (CARE) program in the Office of Air and Radiation, which helps communities solve the environmental and health challenge of cumulative exposures affecting their neighborhoods.  These communities didn't want EPA to visit them to study their challenges. Rather, they wanted to participate actively in solving their environmental problems. EPA listened.  The CARE program was developed as a community-based and community-driven grant and technical assistance program based on partnerships. Through these CARE grants, community residents, government, and business work together to identify neighborhood risks and address them.  Each EPA regional office builds a technical team around the CARE grantee to do just that.
I have also served as the Office of Air and Radiation's EJ Coordinator, managing cross-agency teams on community-based work.  Years ago, I managed the National Environmental Justice Advisory Council (NEJAC) for the Office of Environmental Justice. 
Now, I'm enjoying being back in my old office on another detail. I must say, even though I've worked in different EPA offices throughout my career, my passion has always been to improve the environmental health and quality of life of those communities at greatest risk. I've been blessed to fulfill this dream through my job at EPA.
What is your highest level of education? What was your major?
I have a Ph.D. in public policy from George Mason University, where I wrote a dissertation on effective and sustainable community collaboration. 
What message would you like to send other women who are considering college or a career in environmental protection?
Perseverance is the key.  Ethical integrity should be established early in your career and maintained.  Education is the way!