Profiles of Women of EPA: Kelly Witter
---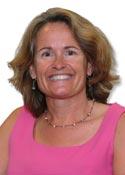 Kelly Witter, Environmental Engineer
Office of Research and Development
Research Triangle Park, NC
Where were you born?
Buffalo, NY.
What brought you to EPA?
I decided to stay in Durham, NC after college (our office is in Research Triangle Park, or RTP).  I began working here in 1987 in a 1-year temporary position in the radon research program, and I've been here ever since.
What type of work do you do at EPA?
I direct our K-12 Environmental & STEM Outreach Program at Research Triangle Park, North Carolina. Through our program, we connect the needs of the community with the expertise of our employees to inspire and educate in the fields of science, technology, engineering and mathematics, commonly referred to as STEM.
For example, I've been successful in getting more than 200 employees from our RTP campus a year to serve as guest speakers at local schools and in the community. Our employees provide climate change workshops, serve as judges at science fairs, and participate at school career days. We've worked with local school districts, universities and community-based organizations to inspire the next generation of scientists and engineers. Every year, we reach more than 30,000 people in eight counties, with more than 100 events at low-income schools. It's been a very rewarding experience for all involved. In fact, the program has been so successful that I've made several presentations at the North American Association of Environmental Education and to the private sector, highlighting our program as a model for STEM education and partnerships.
What is your highest level of education? What was your major?
I have a masters in civil & environmental engineering as well as an MBA.
What message would you like to send other women who are considering college or a career in environmental protection?
Keep your options open by taking a mix of classes that you find both interesting and challenging. Your future career may not even exist today, so focus more on the skill set than on a specific career. Also, take advantage of all opportunities – whether paid or volunteer – to experience different jobs and to find out what you enjoy doing (and what you'd rather avoid).