Profiles of Women of EPA: Carolina Penalva-Arana
---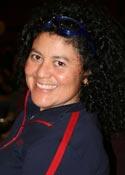 Carolina Peñalva-Arana, Molecular biologist
Office of Research and Development
Washington, DC
Where were you born?
San Salvador, El Salvador
What brought you to EPA?
While in graduate school, I received an EPA Science to Achieve Results (STAR) award to do environmental research.  Now I am using that knowledge and expertise to assess the health of ecosystems.    
What type of work do you do at EPA?
I'm studying small organisms that live in wetlands and other aquatic ecosystems and their relationship to that ecosystem's health.
On a research trip in 2012, we went to the Little Miami watershed outside Cincinnati, OH, and collected water samples that included these small organisms known as macroinvertebrates. We took our samples back to the lab to develop DNA profiles from each site. In other words, we're using genomic fingerprints of the organisms present at each location to learn more about the local biodiversity and the genetic variation between key species.
This research will give us a greater understanding of the environment and the complex relationships of organisms living there. In fact, the presence or absence of these small organisms helps us better understand the water quality and overall environmental health of an area. Being aware of tiny changes in an ecosystem's health will help us do a better job of making sure our environment is healthy and thriving.
What is your highest level of education? What was your major?
As an undergraduate, I went to Oberlin College and received bachelors degrees in biology and Spanish literature. After that, I worked as a research assistant in the San Francisco Bay area for three years before continuing my graduate education at the University of Wisconsin studying toxicology and animal behavior.  I did my post-doc at Indiana University, looking at genes responsible for how invertebrates smell and taste things in water.
What message would you like to send other women who are considering college or a career in environmental protection?
I would highly encourage them to get experience in a lab before starting a masters or Ph.D. program. It's very important for everyone to see the amount of work that goes into research, including finding funding to pursue work that interests you. You have to be able to express to others why the work you are doing is important, which at times requires more writing than lab work. Getting research experience before grad school is a must. As an undergraduate, find a graduate student or post-doc who needs help in their lab. It is the easiest and best way to guarantee lots of hand-on experience.