Profiles of Americans with Disabilities at EPA: Amanda Sweda
Profiles of Members of Americans with Disabilities at EPA
---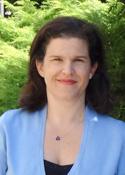 Amanda Sweda
Where were you born?
I was born in Chicago, Illinois and raised in Dallas, Texas.
What is your highest level of education? What was your major?
I earned my Master of Arts in Communications Sciences and Disorders (Deaf Education) and a Bachelor of Arts in History and Psychology from the University of Texas-Austin.
What brought you to EPA?
I participated in a wonderful program with the Department of Labor and Department of Defense called the Workforce Recruitment Program (WRP) while in college. I had a couple of summer internships with various federal agencies in Washington, DC and in Dallas through this program while I was finishing my masters. Right when I was graduating, I received a letter from EPA asking me to apply to a career development program they had. I was intrigued by EPA's mission and by the opportunities in the program and figured "why not?" I applied and interviewed and EPA offered me a position and the rest is history!
What kind of work do you do at EPA?
I serve as the Agency's National Reasonable Accommodation Coordinator (NRAC). Reasonable accommodations are what we do differently at EPA to remove workplace barriers for employees with disabilities. I help employees and managers navigate the reasonable accommodation process for the entire Agency. The reasonable accommodation process is a step by step process for each person who needs it. Each person is unique and has different needs or limitations that needs to be addressed during the process.
What message would you like to send to young Americans with disabilities considering going to college or a career in environmental protection?
You are your own best advocate! Don't let anyone tell you that you cannot do what you love. You may need to do it differently from everyone else and that is okay. Remember that hidden in the word "impossible" is "I'm possible." I majored in liberal arts subjects and did not take a traditional path into EPA and that is ok too because we can't all be scientists. I bring a different perspective because of my educational background and because of my life experiences of having a disability. Sometimes the solutions to issues EPA is trying to solve requires us to look at the problem differently.