CAMEO Software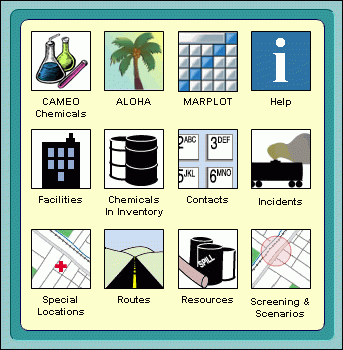 Since CAMEOfm 2.0, the traditional CAMEO® functionality has been split into two programs that need to be downloaded and installed separately:
CAMEOfm is a database application where you can keep track of information (such as chemical inventories and contact information for facilities in your community) to assist in emergency response and planning.  It is especially useful for managing data required under the Emergency Planning and Community Right-to-Know Act (EPCRA).  You can enter information into the CAMEO database manually and/or by importing a Tier2 Submit™ file (if the facilities and/or planners in your state use that program to complete Tier II forms under EPCRA).
CAMEO Chemicals has an extensive chemical database with critical response information for thousands of chemicals, and a tool that tells you what reactions might occur if chemicals were mixed together.
The programs can be used individually or in conjunction with other programs in the software suite, such as the ALOHA® hazard modeling tool and the MARPLOT® mapping program.  Learn more about the CAMEO software suite.
Downloading CAMEOfm
Download CAMEOfm for Windows (Version 3.3, Dec 2016, 33.0 MB EXE) (Updated January 6, 2017)
Download CAMEOfm for Mac (Version 3.3, Dec 2016, 71.6 MB DMG); additional Mac instructions
The Windows version requires a Windows 7 (Service Pack 1), Windows 8.1, or Windows 10 operating system.  The Macintosh version requires a Mavericks (10.9), Yosemite (10.10), or El Capitan (10.11) operating system. Operating systems not listed here have not been tested and are not supported.
Important Note for Current CAMEOfm Users: Installing a new version of CAMEOfm will overwrite the data in your current version of CAMEOfm.  To ensure that your data is successfully transferred to the new version, download and read the instructions for transferring data from earlier CAMEOfm versions.
Downloading CAMEO Chemicals
The downloadable, desktop version of CAMEO Chemicals can be run offline and share information with other CAMEO suite programs.  An online version and a mobile site version of CAMEO Chemicals are also available, but they do not interact with other programs in the CAMEO suite.
Download CAMEO Chemicals for Windows (Version 2.7, Sept 2016)
Download CAMEO Chemicals for Mac (Version 2.7, Sept 2016)
Learning More About CAMEOfm and CAMEO Chemicals
For an overview of all of the suite programs, download the CAMEO Suite fact sheet (PDF) to learn how these tools can be used to assist first responders and emergency planners. (2 pp, 720 KB, About PDF) 
For a brief summary of the CAMEO Chemicals program and its capabilities, download the CAMEO Chemicals fact sheet (PDF). (2 pp, 815 KB, About PDF) 
What is new in latest version of CAMEOfm (3.3)?
Modified import to also allow Tier II data to be imported using an XML file that adheres to the new national data standard
Improved the error message that appears if you try to type in a text field without being in Edit mode
Updated the Chemical Inventory links in the CAMEO-generated KML files
Resolved an issue where large files could not be imported in Windows
Updated to allow import of Tier2 Submit 2016 files
Updated state-specific fields
Revised helps
Made additional minor changes and bugs fixes
What is new in the latest version of CAMEO Chemicals (2.7)?
Added new feature to the UN/NA datasheets to allow you to see the 2016 Emergency Response Guidebook PDFs in English, Spanish, or French.
Added new external website links on the chemical datasheets to NIOSH Pocket Guide pages and International Chemical Safety Cards.
Updated data to include new toxic Levels of Concern (PACs and ERPGs), Hazmat Table (49 CFR 172.101) values, and DuPont Tychem suit fabric information.
Updated list of ALOHA-selectable chemicals to match ALOHA 5.4.7.
Added new Ionization Potential field to the chemical datasheets.
Modified the Advanced Search to incorporate the three new chemical datasheet fields.
Revised helps.
Made additional minor changes and bug fixes.
Getting Help
You can report software bugs or obtain additional assistance by emailing the RMP Reporting Center (RMPRC@epacdx.net), or by calling the CAMEO help desk at (703) 227-7650
 on weekdays from 8 AM to 4:30 PM, Eastern Time.