About Black River AOC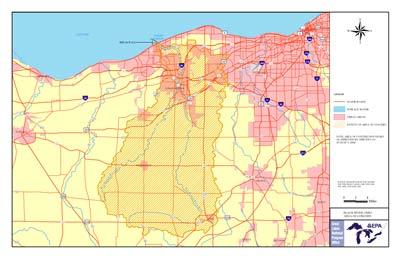 Black River AOC Boundary Map
The Black River is in northern Ohio. In June 2015, the boundary of the Black River AOC was modified. The geographic extent is the entire Black River mainstem from Lorain to Elyria, the French Creek watershed, the Outer Harbor, and the nearshore of the Lake Erie area including two Lake Erie beaches, Lakeview Park Beach and Century Park Beach.
Discharges from the many industrial operations on the lower river contaminated river sediments with heavy metals and polynuclear aromatic hydrocarbons (PAHs) from a now closed steel mill coking operation. The river's aquatic habitats and fish communities were severely impacted.  
Impairments to the River
The long history of industrial, agricultural and urban uses to which the Black River was subjected has left its mark. Like most rivers that flow through or near the industrial heartland of the US, the Black River has been subjected to a variety of uses. Rivers were suppliers of water, agents of commerce but ultimately unfortunate receptors of and conduits for wastes.
The impairments to the river have included:
poor water quality due toxic substances and bacterial contamination;
loss of biodiversity due to water contamination,
habitat degradation and sedimentation; and,
land use changes that have altered the river and its tributaries.
Sources for these impairments include:
municipal and industrial discharges
bank erosion
commercial and residential development
atmospheric deposition of contaminants
hazardous waste disposal sites
urban stormwater runoff and combined sewer overflows
agricultural runoff from the upper watershed
Beneficial Use Impairments
Restrictions on fish and wildlife consumption (proposed for removal)
Eutrophication or undesirable algae (proposed for removal)
Restrictions on drinking water consumption, or taste and odor
Degradation of fish and wildlife populations
Beach closings
Fish tumors or other deformities (in recovery)
Degradation of aesthetics
Degradation of benthos
Restriction on dredging activities
Loss of fish and wildlife habitat