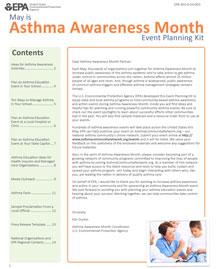 EPA developed this Event Planning Kit to 
equip state and local asthma programs to hold community-based asthma awareness 
and action events during Asthma Awareness Month. Inside you will find ideas and 
helpful tips for planning and running powerful community asthma events in schools, 
hospitals, clinics, and state capitols. You will also find sample materials and a resource 
order form to help prepare for your events. We value your feedback on the usefulness 
of the enclosed materials and welcome any suggestions for future materials.
You will need Adobe Reader to view some of the files on this page. See EPA's About PDF page to learn more.