Air Monitoring, Measuring, and Emissions Research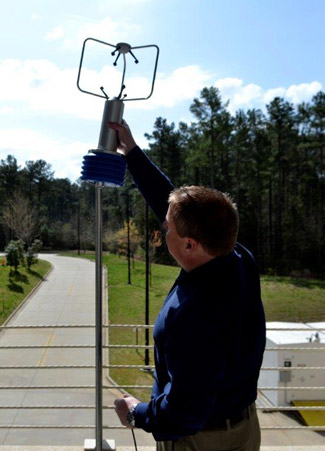 EPA is a science leader in the development and improvement of instruments, methods, techniques and other tools to measure and monitor air quality and evaluate air emissions to protect public health and the environment from air pollution. Measurement research is advancing the ability to determine the composition of sources of air pollution, conduct exposure assessments, improve monitoring capabilities and support public health research, among other applications. Research is being conducted to:
Develop and evaluate new and improved air measurement technologies and capabilities to enable air quality regulators and managers to effectively address air quality issues.   
Collect air pollution emissions data from designated sources to expand the emissions inventory in the US and build understanding of atmospheric chemistry for use in making decisions to protect air quality.   
Develop innovative air sensor technology and analysis tools to improve the availability and accessibility of air quality measurement technology for communities and citizen scientists.  
The research spans a wide range of technical knowledge and capabilities including:
Emissions and Measurements Research to Support Air Quality Policy Decisions

High quality air pollution data is needed by air regulators and managers to implement the National Ambient Air Quality Standards and develop effective preventive and mitigation strategies to protect air quality. Understanding what is in the air near sources of pollution such as industrial applications, oil and gas production facilities, coal-fired power plants and highways is critical to safeguard public health and the environment from six common air pollutants and other hazardous air pollutants regulated by EPA.

EPA is advancing air measurement technologies and capabilities to assist states, communities and tribes with air quality monitoring. EPA and state and local agencies are using the research and technology to:

Monitor compliance with the air quality standards
Conduct emissions characterization research
Identify effective pollution prevention and control strategies
Develop global emissions inventories
Develop the next generation regulatory and compliance strategies

The research spans a wide range of technical knowledge and capabilities including:

Next Generation Air Measurement Technologies

EPA is advancing lower cost and portable air measurement technology to enhance monitoring capabilities for complying with the National Ambient Air Quality Standards. The technology is providing mobile and stationary real-time measurement capabilities that can be used to assess air quality of common pollutants and air toxics in a specific area such as around an industrial facility, oil and gas operation, rail yard or port. Air sensor equipment can be set up individually or as a sensor network in an area to provide fenceline monitoring.

Research projects include:

Mobile Air Measurement Systems: The Geospatial Measurement of Air Pollution (GMAP) research program uses vehicles with integrated high time-resolution air pollution instrumentation to quantify source emissions and local scale air pollution trends near roadways, rail yards, ports, industrial facilities, oil and gas production, and other large area sources. As part of a partnership with ACLIMA, Inc., EPA is participating in the advancement of mobile air sensor technology using Google street view cars. Real-time data collected throughout a city can offer new insights into air quality at the street level. Researchers are improving the ability to collect data on air pollutants and determine what types of sensors work best and how they can be used in indoor and outdoor environments.
Billboard Applications: The emerging SENTINEL (Sensor NeTwork Intelligent Emissions Locator) project combines air quality measurements and modeling to improve the understanding of emission sources. For near-source measurements, the research team is developing SENTINEL air monitors that can be coupled to digital billboards. The needed infrastructure, electricity and internet access to send data to a cloud for air monitoring can require significant investment. Installing monitors on billboards could reduce costs and allow for their use across a wide range of diverse industrial and urban environments.
Fenceline Sampler: The SPod is a low-cost fenceline sampler under development that provides real-time fenceline data on volatile organic compound emissions like benzene. The device is solar powered, enabling it to be dropped in place for monitoring, even without an available power source.
Black Carbon Monitor: A low-maintenance, low-power and high time resolution black carbon (BC) instrument is under development that can provide continuous measurements in a variety of environments. Black carbon, a component of particulate matter, is of interest as an indicator of combustion emissions and is a short-lived climate forcer. 
Wildfires: A unique instrument system and method for sampling and quantifying emissions from wildfires and open area burns such as agricultural field burning and wild prescribed burns is being tested. Researchers use a helium-filled balloon to lift instruments into the smoke plumes. Field sampling of burns and large-scale laboratory burn simulations are conducted to determine emission factors. Called the Aerostat, the device can measure and sample a broad variety of compounds including carbon monoxide, carbon dioxide, fine particulate matter, black/brown carbon, elemental organic carbon, semi-volatile organics and volatile organics.
Sensor Evaluations: A growing number of air sensors for monitoring air quality are being made commercially available, encouraging more widespread use by individuals, citizen groups, researchers and regulatory officials. EPA is supporting the advancement of air sensor technology by evaluating devices in the laboratory and in field studies. The goals of these evaluations are:

Develop a better understanding of basic sensor performance characteristics
Provide results to sensor manufacturers that encourage improvements in sensor performance
Communicate findings to stakeholders to improve outcomes of sensor applications.


Related Resources:

Research on Near Roadway and Near Source Air Pollution

---

Air Quality Measurement Methods

In order to effectively monitor air pollutants to implement the National Ambient Air Quality Standards, states and tribes need state-of-the-art methods for using technology that provide accurate and reliable data. EPA researchers develop new methods and make improvements to existing methods that are used to collect data on air quality.

Research projects include:

Federal Reference and Equivalency Methods: EPA scientists develop and evaluate Federal Reference Methods and Federal Equivalency Methods to accurately and reliably measure six primary air pollutants in outdoor air. These methods are the gold standard of measurement for use by states and other organizations to assess implementation actions needed to attain National Ambient Air Quality Standards. These standards are reviewed every five years by EPA, requiring assessment of existing methods and development of new ones as needed. One initiative is using satellite measurements to validate proposed methodology.
Aircraft Emission Methods: Since the early 2000s, research has been conducted to design and deploy methods to measure emissions from aircraft, a known source of air pollution worldwide. One such method has been developed to measure aircraft particle pollution and black carbon. The method is recognized by the International Civil Aviation Organization (ICAO), the United Nations body that sets standards for international aviation. Ongoing research is focused on developing black carbon measurement methods for determining non-volatile particulate matter (nvPM) emissions from commercial aircraft engines.
Air Toxics Methods: States use toxic organic (TO) methods to provide data on air toxics to EPA's National Air Toxics Trends Station (NATTS) Network, the Urban Air Toxics Monitoring Program (UATMP), and the Community-Scale Air Toxics Ambient Monitoring Program (CSATAM). EPA reviews existing TO methods to identify the highest priority methods to update and develop a process to conduct research to update and refine existing methods or develop new ones. Current methods used for measuring air toxics in ambient air are found in the Compendium of Methods for the Determination of Toxic Organic Compounds in Ambient Air—Second Edition (625/R-96/010b), published in January 1999.
Stationary Source Emissions Methods and Instruments: Using EPA's unique combustion testing facilities in Research Triangle Park, NC, researchers are investigating stationary diesel engines and diesel generators to assess the variability in particulate and gaseous emissions with the use of pre- and/or post-combustion control technologies. The development of more emissions data on stationary, large-scale diesel engines can help to support current regulations to control emissions from diesel generator sets used by industry.

New methods to measure emissions from industry and other stationary sources are also being developed as part of research to advance the next generation measurement technology. Select air measurement methods are being tested to improve scientific understanding of high priority sources of air pollutants in industrial settings. For example, the OTM 33 method used in a passive sampler is being used to control benzene emissions from petroleum refineries as a result of an EPA rule that approves the use of the fenceline monitoring technology.

Finally, emerging and innovative instrument technologies that measure emissions from stationary sources such as landfills and coal-fired power plants are reviewed and studied with the goal to more quickly advance promising technologies into the marketplace and support future regulatory needs.
Air Measurement Methods for Reservoirs: Impounded waters such as reservoirs are a source of global methane emissions to the atmosphere. To more fully understand the contribution of this source of the global-warming pollutant, researchers are developing methods to measure and estimate methane emissions from reservoirs in the U.S. so that they can be included in EPA's National Emissions Inventory. The research is also addressing ways to reduce methane emissions from reservoirs.


Related Resources:

Federal Reference and Equivalent Methods

Secondary organic aerosol (SOAs) Research

Compendium of Methods for the Determination of Toxic Organic Compounds in Ambient Air—Second Edition (625/R-96/010b), published in January 1999.

---

Air Quality Emissions Inventories Using Measurements and Models

Air quality management requires an understanding of the type of air pollutants being emitted by various sources from onroad vehicles, large industrial facilities, power plants and smaller sources such as residential heating and asphalt paving. The development of emissions inventories is critical for the states to implement accurate and effective air pollution control strategies. Complete, well-referenced and quality-assured emissions profiles of air pollution sources support EPA models used by states to demonstrate compliance with the National Ambient Air Quality Standards and are used to populate emissions databases.  

Research projects include:

EPA's SPECIATE Database Support: Researchers work to update and maintain EPA's SPECIATE database including the addition of high-priority emission profiles used in many of EPA's atmospheric models. SPECIATE is the EPA's repository of volatile organic gas and particulate matter (PM) speciation profiles of air pollution sources. In addition to populating and maintaining the SPECIATE database itself, researchers are providing and maintaining the SPECIATE web browser to assist users that do not have database proficiency but need information on the components of the emission profiles. Research is currently focused on oil and natural gas profiles as well as profiles from wild and prescribed fires.
On Road and Off Road Emissions Inventories: Research is providing a better understanding of air pollution emissions from light duty trucks and other on road vehicles and off road vehicles. Using dynamometers in the laboratory, emissions are characterized under different operating conditions and combustion technologies, outdoor temperatures and fuel mixtures that are currently in use or proposed. Vehicles are also taken on the road for emissions testings. Researchers are investigating mobile measurement instruments to obtain real-world emissions of vehicles during operation on a road.

The emission rates developed by EPA researchers are used to support EPA's MObile Vehicle Emission Simulator (MOVES) model that is the official model for estimating air pollution emissions from cars, trucks and motorcycles. The emissions rates are also used in EPA's SPECIATE Database, the repository of volatile organic compounds and particulate matter speciation profiles of air pollution sources.
Analytical-Chemical and Optical Methods: Research is needed to develop and apply sampling, analytical-chemical, and optical methods that accurately and precisely measure the inorganic and carbonaceous components of gases and fine particulate matter (PM2.5) from a variety of emissions sources and ambient locations. Examination of particle phase black carbon (BC), organic nitrogen compounds, polycyclic and oxygenated aromatic compounds, nitrogen-containing polycyclic aromatic compounds, metals, atom and chemical bond valence states, particle size and other physiochemical attributes of emissions are being investigated. Data from this research is used by thousands of scientists worldwide and supports a variety of toxicology research activities that require analytical chemical methodology for air pollutant determination.
Black Carbon Characterization: Researchers are characterizing the optical properties of particulate and black carbon emissions from combustion sources. The physical, chemical and optical characterization of these aerosols will be used to develop a black carbon emissions inventory for EPA's National Emissions Inventory. The data is important for the development of climate models. The light absorbing nature of these aerosols and their limited lifetime in the atmosphere give them the potential to act as short-term climate forcers. Demonstration of optical properties such as light scattering and absorption and refractive capabilities, will provide critical information for determining black carbon's role in global warming. The research will also provide particulate and black carbon data for the SPECIATE database.


Related Resources:

MOVES (Motor Vehicle Emission Simulator)

National Air Toxics Trends Station Network

Urban Air Toxics Monitoring Program