Thomas Sinks, Director, Office of the Science Advisor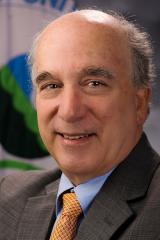 Dr. Thomas Sinks became the Director, Office of the Science Advisor in September 2015, providing leadership to the staff supporting EPA's Science Advisor.  The office is responsible for EPA's human subject research ethics, scientific integrity, and developing cross-agency science policy guidance including those developed through the Science Technology Policy Council, Risk Assessment Forum, Laboratory Enterprise Forum, and the Forum on Environmental Measurement.  
Dr. Sinks worked for the Centers for Disease Control and Prevention (CDC) from 1985 through 2015.  In 2015, he served as Associate Director for Science (ADS) for CDC's Ebola Activation working in the CDC Emergency Operations Center (EOC).   He worked in the CDC's National Center for Environmental Health (NCEH) from 1991-2003 as well as the Agency for Toxic Substances and Disease Registry (ATSDR) from 2003- 2015.  He has been involved in preventing childhood lead poisoning and asthma, providing safe drinking water and food, newborn screening, human biomonitoring, climate change and health, mitigating chemical and radiologic hazards, developing toxicologic profiles, and responding to natural, chemical, and radiologic disasters and disease outbreaks, and protecting communities from hazardous substances.  Dr. Sinks was Deputy Director NCEH/ATSDR from 2006 -2015 and the Acting Director from 2004-2005.  He was lead scientist for NCEH beginning in 1995 and lead scientist for NCEH/ATSDR in 2003-2004.  He served as the Associate Director for Chemical and Radiological Terrorism Preparedness and Emergency Response in 2003 and served as Incident Commander during the response to Hurricane Katrina. He was Acting Director, Division of Birth Defects, Child Development, Disability and Health in 1999-2000 and Acting Chief, Air Pollution and Respiratory Health in 1997.  Dr. Sinks was the Chief, Health Studies Branch from 1991-1994 and led epidemiologic investigations of hypervitaminosis D in Massachusetts, ackee poisoning in Jamaica, optic neuropathy in Cuba, heat-wave related deaths in Philadelphia, and the 1992 bombing of the World Trade Center.
Dr. Sinks began his CDC career as an Epidemic Intelligence Service Officer assigned to the National Institute for Occupational Safety and Health (NIOSH) in 1985 and remained at NIOSH until 1991. He conducted and supervised health hazard evaluations and investigated respiratory disease among Hawaiian sugarcane workers and the causes of mortality of electric capacitor builders exposed to PCBs.
Dr. Sinks has a B.S. degree from Tulane University (1973) and a M.S. (1982) and PhD (1985) degrees from the Ohio State University.  He is married to Dr. Kelley Scanlon who is the Chief of CDC's Nutrition Branch. Their family includes three children [Nicholas (age 21), Hannah (age 20), and Sarah Halle (age 13)] and one standard poodle [Clio (age 8)].