About the Human Health Risk Assessment Research (HHRA) Program
What We Do
The HHRA research program is one of six priority National Research Program areas with the U.S. Environmental Protection Agency's (EPA) Office of Research and Development (ORD).  The HHRA research program plays a unique role in serving the needs of EPA programs and regions, as well as the broader risk assessment/management community, by identifying, evaluating, synthesizing and integrating scientific information on individual chemicals and chemical mixtures.
These state-of-the-science, independently peer-review human health assessments prepared under the HHRA research program serve as the foundation for EPA's regulatory and other decision-making to meet the Agency's mission to protect human health and the environment.
Project 1 (RMS HHRA1.21): Integrated Risk Information System (IRIS)
Project 1 is devoted to maintaining the credibility and responsiveness of the IRIS program. A strong, scientifically rigorous IRIS program is of critical importance, and the HHRA research program continues to make changes that: (1) improve the scientific integrity of IRIS assessments; (2) improve the productivity of the IRIS program; and (3) increase transparency so that issues are identified and debated early in the IRIS process.
More Information:
---
Project 2 (RMS HHRA1.22): IRIS Updates
This project will update the existing IRIS database and implement plans to maintain its currency.
---
Project 3 (RMS HHRA2.21): Integrated Science Assessments (ISAs) and Regulatory/Scientific Support
This project supports the planning, development, and implementation of the ISAs to provide regulatory support to advance specific scientific approaches and solutions to issues that arise. During the FY2016-2019 time period, the HHRA program expects to be supporting ISA and regulatory support to the Office of Air and Radiation (OAR) regarding the final promulgation on the Sulfur Dioxide (SO2) primary (health criteria) and Nitrogen Dioxide (NO2) primary (health criteria) NAAQS in FY18 and the secondary (welfare) NAAQS in 2019 for SO2 and NO2, while also initiating development of the ISA for Particulate Matter (PM).
More information:
---
Project 4 (RMS HHRA3.21): Provisional Peer-Reviewed Toxicity Value (PPRTV) Assessments
This project supports the development of toxicity values for use in EPA's Superfund program when a value is not available in the IRIS database. The PPRTV assessments are used by the Superfund program and regional decision makers when making site-specific cleanup decisions, such as when to pursue monitoring for a contaminant of concern. The implications of these decisions include improvements in human health in the vicinity of Superfund sites, reduction or reversal of damages to natural resources, reduction of harm in emergency situations, improved economic conditions and quality of life in communities affected by hazardous waste sites, improved environmental practices by industry, and advances in science and technology.
More information:
---
Project 5 (RMS HHRA2.22): Site-specific and Superfund Regulatory Support
This project supports the needs of communities when they are faced with an urgent need for coordinated assistance to assess and address issues of chemical and other environmental contamination, and additionally are dealing with new sensing or monitoring information that is difficult to interpret. To support this, EPA provides rapid risk assessment and technical consultation regarding both health and ecological impacts through five technical support centers, two of which are supported by the HHRA program: the Superfund Technical Support Center and the Ecological Risk Assessment Support Center. 
More information:
---
Project 6 (RMS HHRA3.23): Cumulative Risk Assessment (CRA) Methods and Applications
This project supports the needs of communities to understand and conduct local or "place-based" assessments, another major project area of research under this topic is expanding cumulative risk assessment (CRA) methods, developed to integrate and evaluate impacts of chemical and non-chemical stressors on the environment and health. 
More information:
---
Project 7 (RMS HHRA4.21): Advancing Hazard Characterization and Dose-response Methods
This project supports the advance of new approaches and refine procedures to address specific challenges that arise across HHRA assessment activities.  Steps include identifying relevant studies and evaluating their quality, identifying relevant endpoints for human health risk evaluation, evaluating mechanistic information, synthesizing study results within an evidence stream for a health effect (e.g., human, animal, mechanistic), and integrating qualitative and quantitative information across evidence streams. 
More information:
---
Project 8 (RMS HHRA4.22): Applying Emerging Science to Inform Risk Screening and Assessment
This project is devoted to characterizing the utility of new data streams and computational tools, such as those developed by the CSS program and increasingly available from other sources such as the NIH, university consortiums, and the clinical arena.
More information:
---
Project 9 (RMS HHRA4.23): Risk Assessment Support and Training
This project is the cullmination of the high-quality targeted tools, data, and training, that EPA has produced to enable consistency in assessment approaches by various stakeholders, enhancing the quality of assessment products and confidence in risk-based decision-making. Stakeholder engagement regarding the output of the HHRA program is enhanced by training on risk assessment methods and outreach regarding risk assessment activities and applications.
More information:
The HHRA Program (described as the "Assessment Application Characterization" in the center oval) is illustrated with respect to the overall ORD Research Portfolio and Agency risk management activities.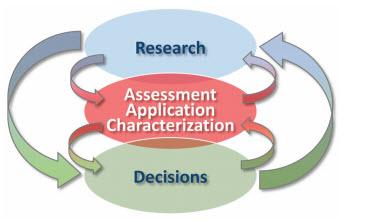 Information, data, and tools developed in ORD partner research programs are incorporated into HHRA assessment products and approaches to support risk-based decisions (information flow illustrated by left side arrows), and insights on their utility or new challenges identified in those applications inform new assessment approaches and research areas (research needs illustrated by right side arrows).
---
Structure of the Human Health Risk Assessment (HHRA) program
The program design starts with problem formulation and scoping with stakeholders and other research programs (denoted in grey module at top). Development of new methods of analysis and application of these advancements into the portfolio of assessment products (IRIS, ISAs, PPRTVs, emergency estimates, etc., indicated in the light blue block) results in identifi cation of critical issues that inform and stimulate research and new methods development. Evaluation of the utility of these activities feeds back to problem formulation and scoping. Additionally, training and outreach activities enhance stakeholder engagement and builds capacity in risk assessment communities for understanding and application of new technologies and approaches.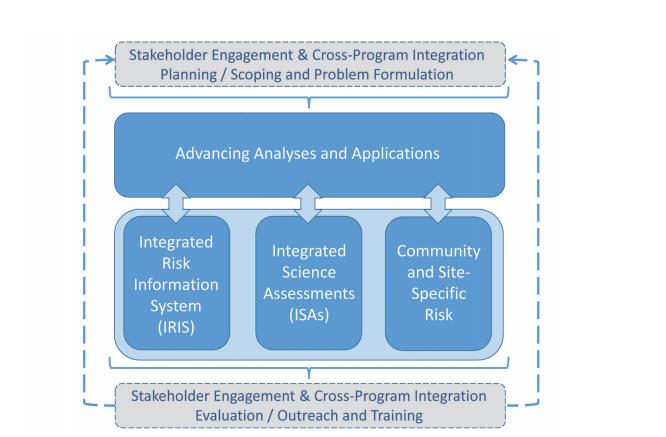 Human Health Risk Assessment Research Grants
Human health risk assessment is the process by which estimates of the nature and probably of adverse health effects in humans, who may be exposed to chemicals in contaminated environmental media, are developed.
For a complete listing of past EPA Human Health Risk Research Grants: Human Health Risk Assessment Research Projects.