About the Deputy Assistant Administrator of EPA's Office of Research and Development, and EPA's Science Advisor
Thomas Burke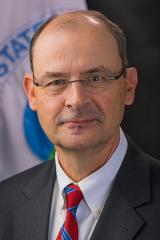 Thomas Burke, Ph.D. is the Deputy Assistant Administrator of Environmental Protection Agency's (EPA) Office of Research and Development (ORD) as well as EPA's Science Advisor. Dr. Burke served as the Jacob I. and Irene B. Fabrikant Professor and Chair in Health, Risk and Society and the Associate Dean for Public Health Practice and Training at the Johns Hopkins Bloomberg School of Public Health before coming to EPA. He was also a Professor in the Department of Health Policy and Management, with joint appointments in the Department of Environmental Health Sciences and the School of Medicine Department of Oncology. Additionally, he was the founder of and served as the Director of the Johns Hopkins Risk Sciences and Public Policy Institute. His research includes the development of new approaches to environmental health risk assessment and environmental health surveillance, and their applications to environmental health policy.

Before his time at Johns Hopkins, Dr. Burke was Deputy Commissioner of Health for the State of New Jersey and Director of the Office of Science and Research in the New Jersey Department of Environmental Protection. In New Jersey, he directed initiatives that influenced the development of national programs, such as Superfund, the Safe Drinking Water Act, and the Toxics Release Inventory.
Dr. Burke also served on EPA's Science Advisory Board, as well as advisory boards for the Centers for Disease Control and Prevention, and on various committees for the National Academy of Sciences (NAS). Dr. Burke chaired the NAS committee that wrote the "Science and Decisions: Advancing Risk Assessment" report. The report, commonly known as the Silver Book, examines some of the greatest challenges to the country's assessment, management and communication of environmental risks.
He received his Ph.D. in epidemiology from the University of Pennsylvania, his M.P.H. from the University of Texas, and his B.S. from Saint Peter's College. Tom is originally from Jersey City, NJ. He and his wife Marguerite have three children.